Pune law students draft bill to protect inter-caste, inter-religion marriages
Hindustan Times, Pune |
, Pune
Ananya Barua
Oct 11, 2017 05:31 PM IST
The draft was sent to Prime Minister Narendra Modi and chief minister Devendra Fadnavis and it specifically aims to protect 'inter-caste and inter-religious marriages' in the country.
In order to bring attention to the crime of honour killing, which is rampant in India, a group of five students from Pune have drafted a bill.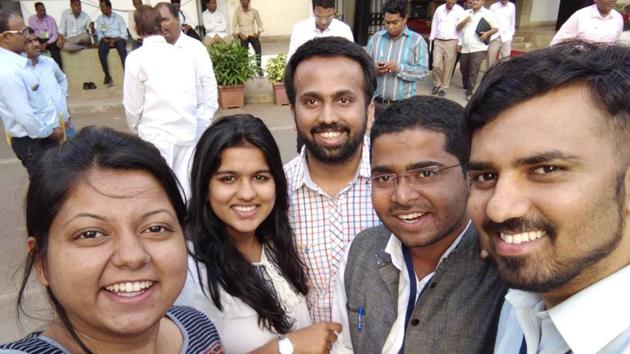 The draft was sent to Prime Minister Narendra Modi and chief minister Devendra Fadnavis and it specifically aims to protect 'inter-caste and inter-religious marriages' in the country.
'Team Vidhi', as they call themselves, consists of four law students, Bhushan Raut, Chaitanya Shendage and Kaamini Suhas from Indian Law Society's (ILS) Law College, and Kalyani Mangave from MMM Shankarrao Chavan Law College.
An engineering graduate, Mayuresh Ingale from VES Institute of Technology, Mumbai , also aids the team and they, through their research, found that no specific law existed in the country that provides protection of inter-caste and inter-religious marriages.
The absence of law led them to draft this bill. Further, the 'generic' provisions of the existing laws, which the police use to deal with such cases, did not specifically cater to them, as per their findings.
"After watching the film Sairat,we felt that there was no special provision to protect these couples. Then, the two cases, one in Kolhapur and the other in Nashik really shocked us .It was strange how in one of the cases, the marriage was between Brahmin and Maratha caste, both of which are upper caste, and yet the honour killing took place. If this could happen in case of upper castes, then what would be the fate of lower caste marriages," Raut said.
"It is because the nature of the crime attached to honour killings is totally different, as the motive and intention of the criminal is based on prejudices. Further, we included not only physical crime, but also the mental and economical harassment faced by such couples," said Suhas.
Mangave added, "We realised that there were a number of schemes to promote inter-caste and inter religious marriages, but not any provisions to protect them."
"The problem was that the schemes were mostly monetary. While in Maharashtra, the couple would be awarded an amount of ₹30,000 to ₹50,000, in Madhya Pradesh it would come up to almost a lakh of rupees. Yet, these schemes also came with certain restrictions, such as one person had to be from the upper caste and the other from a lower caste to avail the reward and so on. All which did not target the root of the issue and solve it," Raut added.
The draft of the Act, titled 'Inter Caste and Inter Religion Marriages Protection and Welfare Act, 2017', has been divided into five broad sections. While Section 1 lays down the definitions and meanings to draw the basic understanding the drafted law, Section 2 points out the crime, punishment and protection extended to inter-caste and inter-religion marriages. Following this, the Section 3 deals with appointment of the commission, National Commission for Protection and Promotion of Inter caste and Inter religion marriages, while Section 4 lays down inter-caste and inter-religion marriage promotion schemes. The final section eventually points out the responsibilities of local body institutions in handling such cases.
Expanding the purview of their bill, the students have widened the definitions, and included different cults and subsections of religions and castes in the society. "Our draft applies to not only inter-caste and inter-religion couples but also to different cults like Shia and Sunnis, within religions. Further, we have also included same sex marriages and crimes against them under our draft, although it is still illegal in the country. It is because we believe it is the basic liberty of an individual to choose their partner," Mangave said.