Pune's 19-year-old girl to cycle around the world in 130 Days
Pune girl Vedangi Kulkarni will be attempting to become the youngest and fastest women cyclist to complete the 29,000km solo and unsupported journey.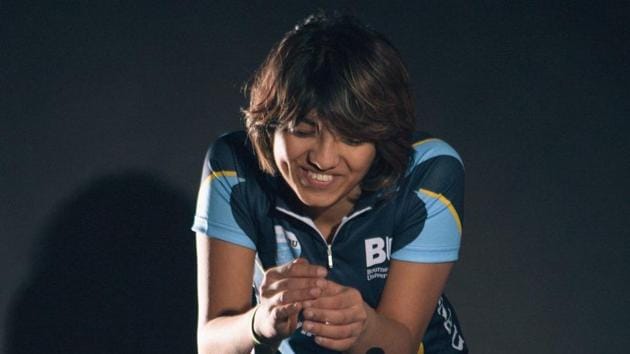 Updated on Jan 04, 2018 05:02 PM IST
The city has always produced several successful sports persons and record holders in various fields. Whether its running or trekking or cycling, these unique personalities have put the city on the world map with their unique feats.
19-year-old student Vedangi Kulkarni is the new face of such extreme adventure enthusiasts in the city. The Pune-born girl, who is currently studying BSc Sports Management course in Bournemouth University, UK, has decided to cycle around the world in 130 days.
She will be travelling solo, without any support, and is expecting to finish the mammoth task of cycling 29,000km through the most testing conditions. She is not just aiming to finish the distance but is also motivating herself to become the youngest and fastest women cyclist in the world to achieve the feat.
The previous record was set by Italian women cyclist Paola Gianotti who had cycled around the world in 144 days in 2014. In the men's category, Mark Beaumont holds the record for completing the journey in 78 days. Even though no Indian man or women has attempted to break the record, Vedangi is upbeat and is planning to break the record with a considerable margin.
"It's not just about breaking a record. The most challenging part is to come out of your comfort zone and do something that seems scary. I would be cycling all alone, without any support crew or friends or anyone and will be facing all difficulties on my own. Along with my physical preparation for the expedition, I am also working on my psychological toughness," says Vedangi.
The cyclist will start her campaign in June 2018 from Perth in Australia and has divided the campaign into five phases. In the first phase, she will cycle from Australia to Brisbane, while the second phase will be from Wellington to Auckland. From Auckland, she will fly to Anchorage in Alaska and cycle eastward to Montreal.
The most challenging part of the tour will be the fifth phase, where she will cover 14,520 kms across Europe and Asia, which will take her through 10 countries before reaching Ulan Bator in Mongolia. Then, she would fly back to Perth, the start-finish line.
"This is a mighty challenge and I will be needing a lot of financial support. This tour will cost approximately Rs 1 crore and I am trying to save every penny possible. I have created a website, is writing a blog and making videoblogs on YouTube. I have published my entire route on the internet and have appealed like-minded enthusiasts to support me in finding accommodation or in any other way possible. This will reduce a burden off me," she said.
How did it start?
In March 2016, Vedangi had a head injury but she managed to get an admission in the university. It was around the same time that she started cycling. After cycling across the Himalayas solo at the age of 17, she got carried away by the journey into the world of adventure cycling. When she moved to UK, she managed to cycle the entire length of UK without much money and an inadequate kit.
This self-supported ride motivated her to register for a long-distance ride, London-Edinburgh-London, in 2017.
"The idea to cycle around the world first emerged during the LEL ride and I started training hard. It's a difficult task, but is not impossible. And of course it'll seem so until it's done; that's how adventurers live," she said.
The route for the World tour 2018 starts and ends at Perth, Australia.
Phase1: Australian leg: Perth – Brisbane (5,327kms)
Phase 2: New Zealand leg: Wellington- Auckland (731km)
Phase 3: Anchorage to Montreal (5,369km)
Phase 4: Europe + Asia: Portugal, Spain, France, Belgium, Germany, Denmark, Sweden, Finland, Russia, Mongolia (14,520km)
Phase 5: Perth airport- finish line.
About Vedangi
Vedangi Kulkarni, 19, studies BSc in Sports Management in Bournemouth University, UK. Other than cycling, she loves to write. Travel writing is her passion and the manuscript of her novel is currently awaiting further procedures. She also holds football coaching licenses and certificates. She is involved with the students' union in her university and works as a student ambassador there. Her main blog is 'theweirdosays.blogspot.co.uk' and she has a Facebook page dedicated to her poems and write-ups called 'The Untold Tales'.
Close Story
Personalise your news feed. Follow trending topics