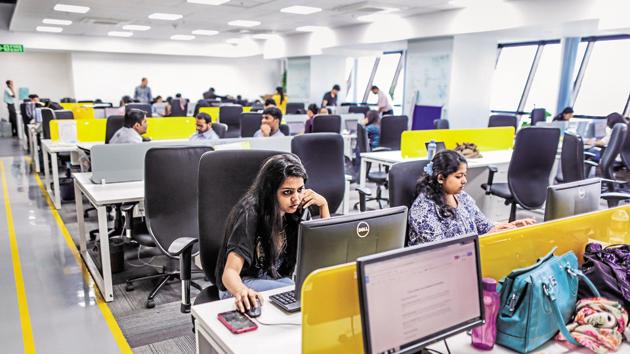 Startup entrepreneurs in Pune feel relived from angel tax scrutiny
The budget also proposed 100% FDI in insurance intermediaries, which will benefit digital insurance startups
Hindustan Times, Pune | By Prachi Bari
UPDATED ON JUL 06, 2019 05:12 PM IST
The Union Budget has announced a host of incentives for entrepreneurs and startups, including a TV programme exclusively for startups; easing foreign direct investment rules into startup segments like grocery, e-commerce and food delivery; proposing a host of enhancements to the digital payment systems ecosystem that would help fintech startups; incentives for electric vehicles that would help related startups; getting loans up to ₹1 crore in 59 minutes; and ensuring that startups do not feel the heat of angel tax from I-T authorities. The budget also proposed 100% FDI in insurance intermediaries, which will benefit digital insurance startups.
"Good measures are extension of Startup India to 2025, training in new age technologies, livelihood incubators and support for agri entrepreneurs. Government could have introduced tax breaks for angel investors as it exists in other countries and, most importantly, government processes and functionaries especially at leaf node continue to operate in archaic and obstructive ways, creating difficulties for startups," said Kiran Deshpande, president TiE Pune and co-founder Mojo Networks.
"Intention to encourage startup by government is welcome, but tax officers need to upgrade their knowledge about digital economy. No requirement to explain fair share pricing by startups to tax department is yet another welcome move by government. Yet the speed of reform and sensitisation of babus need to speed up with same speed as technology and digital economy is progressing. Angle investment tax related changes are welcome, though process seems still complicated, but a big disappointment for small businesses. They will continue to pay 25% taxes, while companies earning up to ₹400 crore also will pay 25% taxes." Siddarth Deshmukh, founder and CEO, Shimbi Computing Laboratories Pvt ltd.
According to Kedar Sabne, chartered accountant, company secretary, director of Inteliment Technologies Private Limited, the good part of the budget is the continuation of the efforts in Modi 2.0 government. "The ease of living has been given the thrust in the budget speech. If I have to co-relate it with startup world where I'm deeply involved, angel tax which was introduced to address the black money movement or coloured transaction had become a pain for startups to raise funds. With the clarity in the budget speech that the tax department shall not hound startups in case they have met the requirements of "investor" and "investee" with respect to the fair market valuation of the shares, then it shall be a big relief."
"The other aspect which I would have liked the finance minister to consider was regarding implementation of Micro, Small and Medium Enterprises Development (MSMED), Act 2006. Most of the startups or budding entrepreneurs fall under this category. The Act has a provision for making payment by buyer to seller MSME's in 45 days from the date of raising the invoice, but the enforcement and the spirit is still not seen on ground, more so the GST implementation and payment of GST on raised invoices by 20th of the succeeding month has made startups cough out the money from their pocket before they have earned it. The government should have worked on this aspect so that the working capital need of this class of entrepreneurs is met. The startups don't need tax incentives to start with, it need capital to stay afloat. If it makes money and stay alive, it will be one of the biggest contributors to the economy. I hope this aspect is taken care of at least in the GST councils monthly meetings," said Sabne.
Vinamra Pandiya, founder and CEO, Qtrove.com, said, "This year's union budget really stood out for entrepreneurs and MSMEs. The announcements that were made today will not only help MSMEs, but also budding entrepreneurs. Initial clarity on angel tax issue, no scrutiny on startup market valuation and e-verification for establishing investor identity is laudable. However, we have seen such announcements in the past. We have to see how Central Board of Direct Taxes (CBDT) and tax assessing officer's (AO) interpret this and help 100s of startups already reeling under its after-effects. While the intent is welcome, we will hold our horses before corking the bubbly."
Close