26-year-old man killed in Patiala explosion
Incident occurred when victim, a mustard oil manufacturer, opened the shutter of his shop-cum-workshop at 3.15am; cause of explosion yet to be ascertained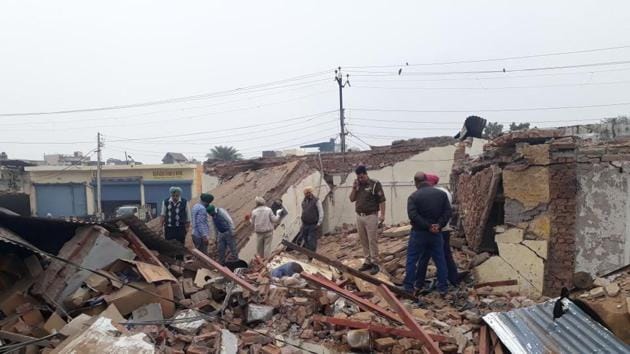 Updated on Nov 16, 2017 09:35 PM IST
A mustard oil manufacturer was killed in a massive explosion that took place in the Mirch Mandi area here in the wee hours of Thursday.
The incident occurred around 3.15am when victim Rajat Mittal, 26, opened the shutter of his shop-cum-workshop.
The cause of the explosion is yet to be ascertained even as the police have ruled out the possibility of explosives being behind the incident.
The impact of the blast could be gauged from the fact that Rajat's body was blown 50m away from the site, while iron shutter of the shop fell away at a distance of 100 m. The roofs of four adjoining shops were ripped apart in the incident.
However, the police are working on different theories. The forensic and ballistic teams were immediately rushed from Chandigarh to gather samples from the site.
"There are no signs of explosives on the site. Prima facie, it appeared that the explosion occurred due to some chemicals used in making mustard oil," said superintendent of police (SP) Kesar Singh.
Earlier, the police suspected it to be an explosion of a welding gas cylinder, but they did not find any burnt cylinder on the spot.
"The father of the deceased told that they used to refine mustard oil during night hours. We are investigating the matter. We will wait for forensic and ballistic reports to come to any conclusion," the SP said.
The family of the deceased had gone to Mohali to drop their younger son and was informed by the police about the incident.
A senior police official said that in view of the impact of the blast, all the angles will be thoroughly investigated.
"Had it occurred during the day time, there would have been more casualties as it is one of the busiest area of the city," another official said.
The police have registered a case against unidentified persons under Section 304 A (culpable homicide not amounting to murder) of the IPC.
Meanwhile, sources said the police had recovered counterfeit currency from Rajat's possession in 2006, following which he was sent to a juvenile home, where he spent 13 months.
Close Story