7,000 illegal pressure horns removed from vehicles in Punjab since July
Hindustan Times, Patiala |
Yuvraj Kaushal
Jan 30, 2018 10:22 AM IST
After ban orders in Sept last year, 460 complaints have been received across the state and notices sent to defaulters.
Tightening the noose around owners of vehicles with illegally installed pressure horns, the Punjab Pollution Control Board (PPCB) removed such horns from around 7,000 buses, trucks and other vehicles across the state between July last year and January 28 this year.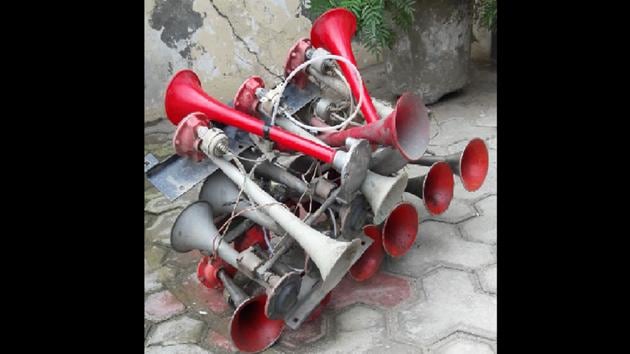 Officials said under a special drive, PPCB teams and the traffic police set up check-posts at several places and removed illegal horns from vehicles, besides challaning them.
Besides the drive to remove pressure horns, the board also raised awareness in this regard at several places, including colleges and universities.
According to the available data, more than 460 complaints were received from September 2017 to January 28 on the helpline of the PPCB. ''The complaints mainly relate to pressure horns in trucks and buses, or modified silencers and bullet motorcycles creating trouble for commuters,'' said an official.
PPCB chairman Kahan Singh Pannu said, "We have kept a strict check on the practice of illegal horns and have managed to control 95% of the problem because of our consistent drive. We will take more appropriate measures to deal with such violations. After the department receives complaints, we send a show-cause notice to defaulters.''
He added, "Depending on the complaints, we also file applications to judicial magistrates to take action against the violators. The latter are also asked to file a written statement mentioning the removal of all irregularities.''
In a notice issued in September last year, the pollution board said anyone manufacturing, selling, purchasing, fitting and using these devices will face imprisonment up to six years after conviction or a fine of Rs 5,000 per day in line with the Air (Prevention and Control of Pollution) Act, 1981.
The statewide ban was issued on October 1 last year keeping in view the noise pollution caused by pressure horns and cracker-sound emitting devices installed on motorcycles, especially Royal Enfield Bullet.
Ludhiana tops the chart
The data provided by the PPCB shows that Ludhiana tops the list of violators, with more than 1,200 illegal horns having been removed by regional officers, followed by Bathinda with 900 and Jalandhar 800. Batala was at the bottom with around 250 illegal horns having been removed from buses and trucks.
In Patiala, around 350 pressure horns were removed and 13 complaints were received. 'We have already sent notices to nine defaulters and are in the process of sending notices to the four others,'' said SS Matharu, executive engineer-cum-regional officer, Patiala.