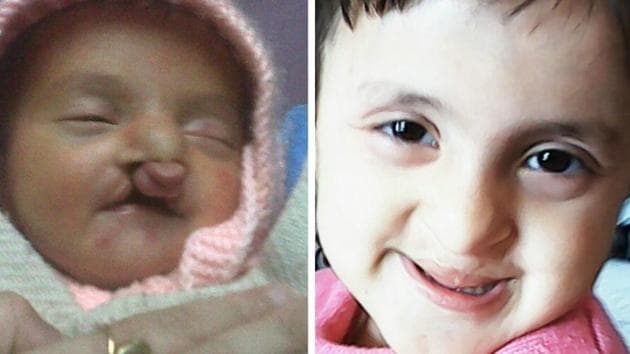 Beacons of hope: These surgeons at PGI, Chandigarh, give a gift of happy smiles
More than 2000 children affected with cleft lip and palate, have been gifted beautiful smiles by the Postgraduate Institute of Medical Education and Research in association with Smile Train, a US-based NGO.
UPDATED ON DEC 29, 2016 03:13 PM IST
More than 2000 children affected with cleft lip and palate, have been gifted beautiful smiles by the Postgraduate Institute of Medical Education and Research in association with Smile Train, a US-based NGO.
Babita Vashisht was shocked when her daughter Ridhi was born with cleft lip and palate in Shimla. "Her upper palate was missing and there was a cut in her upper lip. I could not breast-feed her as she had problem with suckling due to the cleft lip. I was worried about her future," recounts Babita.
"The most annoying part was the strange looks people would give her. Strangers would gather around her to show sympathy," she relates.
But all her worries were laid to rest after Babita met Dr Ramesh Sharma, Head, Plastic Surgery department, PGIMER. "Dr Sharma told me about the disorder and the long treatment," she said.
Ridhi was six months old when she underwent a cleft lip operation; at 11 months, she was operated upon for correcting the cleft of the palate. At five, she had a minor nose operation. There are many more surgeries which she will have to undergo in her adolescence, but her mother is relaxed now.
"The strange looks have disappeared, people don't gape at her any longer," smiles Babita.
Children with a cleft lip have to face several problems, ranging from feeding difficulties to speech problems.
ACROSS SEVEN SEAS
It was in 2007 that PGIMER entered into a collaboration with Smile Train, a US-based non-profit organisarion, to support such children. "The Smile Train is funded by various donors across the globe. Each donor is asked to donate USD 200 which is the approximate cost of a surgery," explains Dr Ramesh Sharma.
Founders of Smile Train select centers from across the globe, capable of providing quality healthcare.
"They pay money for the surgery only once it's been done. They seek detailed information about the patient with his/her pre and post-operative photos. This information is reviewed by their expert group and they send money if they are satisfied with the surgery," says Dr Sharma.
The treatment of cleft lip and palate patients at PGIMER has been completely free since July 2007. The department has performed more than 2000 surgeries to date. And the smile foundation is updated about the status of these patients once in ten days.
The department performs nearly 20 cleft lip surgeries every month, which is not a big number looking at the large number of patients needing the treatment, says Dr Sharma. A cleft lip surgery in PGI costs around Rs 12000, which is half the sum charged in the private sector.
A LONG WAY TO HEAL
Cleft is a separation of parts of the lip or palate that takes place when they fail to join during the early weeks of prenatal development. "It is a congenital defect whose exact cause is not known. Some say it is genetically inherited. It is also greatly influenced by the environment. A genetic predisposition coupled with lack of certain nutrients, specially folic acid during the first trimester, could lead to cleft lip," says Dr Ramesh Sharma.
The incidence of cleft lip in India is one in 700, and every year 35,000 new patients are added.
These children have both functional and cosmetic deformities. "Normal development of soft palate is mandatory for proper speech development. These children cannot speak properly and if they do so, they speak with a nasal twang. They are also plagued by recurrent ear infections. If they don't hear well, they can't speak well," explains Dr Sharma. "Once we operate upon them, more than 90% of them achieve normalcy," he adds.
The doctors say the first surgery should be done by the time the child is six months old or else it impacts the speech development. These children need constant care, from birth till their adolescence. The cleft lip also distorts the teeth line, which necessitates orthodontic care. As they grow, their upper jaw bone and cheek bones don't grow normally, causing their faces to look protruded. All these issues are tackled by experts from various departments of PGIMER.
Close