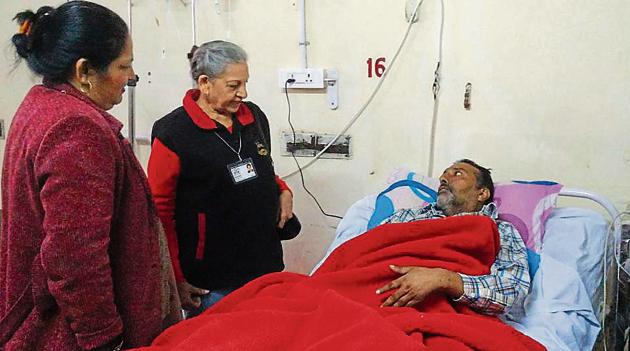 Beacons of hope: They have been instilling hope among cancer patients at PGIMER
A smile brightened the gloomy face of Harjeet Kaur (25), a uterus cancer patient undergoing chemotherapy in a ward at PGIMER, when she heard Neena Singh say: "Don't fear cancer. You will survive it, like me."
UPDATED ON DEC 28, 2016 05:48 PM IST
A smile brightened the gloomy face of Harjeet Kaur (25), a uterus cancer patient undergoing chemotherapy in a ward at PGIMER, when she heard Neena Singh say: "Don't fear cancer. You will survive it, like me."
"Have you survived cancer?" asked Harjeet, surprise writ large on her face, to which Neena replied: "Yes, for the last 26 years."
Taking a deep breath, Harjeet let out a volley of questions: "What if the treatment lapses? What about my hair? Is it communicable?"
Answering all her queries, 72-year-old Neena Singh, a breast cancer survivor and now a volunteer associated with Sahayata Charitable welfare society, moved on to another ward.
BLESSING IN DISGUISE
Having battled the disease and its attendant fears, today Neena instills hope among newly diagnosed cancer patients.
"Cancer is the best thing that happened to me," declares Neena. "Earlier, I used to take everything for granted, but today I try to enjoy every moment. Suddenly, life has become more beautiful."
It was in 2001 that she came in contact with the Sahayta Charitable Welfare Society, which acts a bridge between cancer patients and doctors. Ever since then, she's been helping other patients cope with the disease along with other volunteers.
Diagnosis of cancer has changed the lives of many people forever, and in ways that they could have never imagined. Once sufferers, they are now on a mission to spread positivity and hope among cancer patients.
HELPING HANDS
Started by Neelu Tuli in 1997, the Sahayta society is being run by women cancer survivors. They are not merely survivors, but beacons of hope for hundreds of other cancer patients, who at times lose all hope of living.
Renu Saigal president of the Sahayta society shared: "My sister Neelu Tuli started the NGO after she saw me suffering from blood cancer. When the disease was diagnosed, we were clueless about it and its survival rate. PGI doctors were too busy to counsel us."
"Seeing my helplessness, my sister decided to set up an NGO and serve cancer patients," she recounts.
"Cancer is equated with death and we wanted to replace it with life," says Saigal.
Two members of the society visit the Radiotherapy Unit of PGIMER every day to interact with cancer patients and answer their queries. Giving the patients their own examples of survival, they encourage them to fight the disease and also provide them with financial support.
"Poor patients who cannot afford chemotherapy are referred to us and we help them financially," says Saigal. The Trust gets a referral of four to five patients every day.
A cycle of chemotherapy costs Rs 5,000-10,000, and one person undergoes nearly six such cycles.
Members of the Trust, which will be completing 20 years on May 23, 2017, organise various events to collect funds throughout the year.
Started by one person, the Sahayta team now boasts more than 70 members, who include young volunteers as well.
Young inspiration
On every birthday of hers, she surprises children undergoing cancer treatment at Postgraduate Institute of Medical Education and Research (PGIMER) with gifts, and hope that if she could survive cancer for 25 long years, so can they.
Aanchal Kaur Bhasin, 25, was three when she was diagnosed with blood cancer. "When I was young, I used to play here in the children's ward, unaware of the disease I was suffering from. I am attached to the place and the children undergoing treatment here," she smiles.
"I celebrate my birthdays with these children because I want to show them that there is life after cancer. If I can live for 25 years, so can they," says Aanchal.
Aanchal's mother always accompanies her to the PGIMER and has also become an inspiration for other parents. She cites the example of her daughter who chose medical profession despite all odds.
"We want cancer patients to believe that they will survive, because will power is very important. They should not fear the disease," says Aanchal.
Close