Machines to manage 40% of paddy stubble in Punjab
Updated on Sep 15, 2018 09:34 AM IST
The Centre approved a Rs 1,151-crore scheme in March to promote stubble management though cutting and spreading it on the field or incorporating it into the soil as opposed to burning.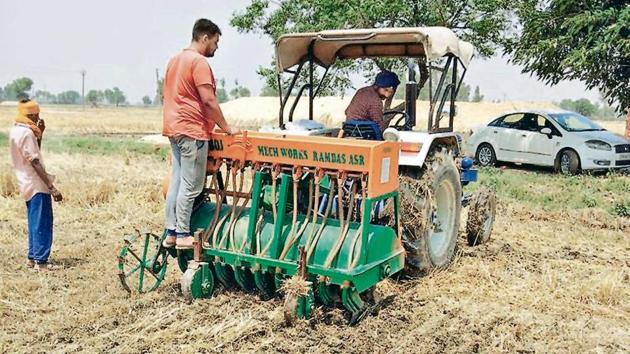 It's a race against time to meet the paddy stubble burning challenge. The harvest season is round the corner and the state and central governments are working to promote agricultural mechanisation for in-situ management of crop residue in Punjab. For the first time, 40% of the 74 lakh acres under paddy cultivation in the state will have machines extracting the stubble.
The Centre approved a Rs 1,151-crore scheme in March to promote stubble management though cutting and spreading it on the field or incorporating it into the soil as opposed to burning. Of the amount, to be spent in 2018-19 and 2019-20, Rs 695 crore was earmarked for Punjab and the remaining for Haryana, Uttar Pradesh and Delhi.
"The options we are providing farmers were not available previously. They will have a positive impact in reducing pollution and use of fertilisers. In the long run, they will add to the income of farmers as we expect the yield to increase considerably," says Punjab additional chief secretary, development, Vishavjeet Khanna.
A major part of the amount sanctioned to tackle stubble burning is being spent on machines to farmers at subsidised rates. A sum of Rs 269 crore is being spent this year on subsidised Happy Seeder machines, paddy straw choppers, reversible mould board (RMB) ploughs, zero till drills, straw management system (SMS) with harvest combines, rotary slasher machines and rotavators. These machines will cover two-fifths of the total area under paddy cultivation.
A total of 220 lakh tonnes of stubble is expected to be produced along with the paddy. The biomass power generating units in the state consume 50 lakh tonnes of stubble. Of the remaining 170 lakh tonnes, 100 lakh tonnes go unmanaged and in all probability will be burned as an easy disposal alternative.
To boost mechanised management of stubble, the Centre has listed suppliers who will supply machines on subsidy. Khanna says the drill to supply machines will be over before the start of harvest that may get extended till mid-October as paddy transplantation was also delayed.
"There will be a visible change this harvest season. The Centre should also set up industries that consume the stubble to generate power, make cardboards and produce fodder. Machines should help farmers get additional income and shouldn't end up as an additional burden with maintenance costs," says Bharti Kisan Union (BKU) leader Bhupinder Singh Mann.
Row over subsidy
The president of another BKU faction, Balbir Singh Rajewal, however, says he has met a cross-section of farmers in Punjab who claim that the cost of subsidised machines are higher than those in the open market. "A Happy Seeder machine can be bought from Rs 85,000 to Rs 90,000, while under the subsidy scheme, it's price is between Rs 1.3 lakh and Rs 1.35 lakh, while the net gain to a farmer is Rs 5,000 to 10,000.
"The subsidy is a fraud. The officers and machine manufacturers are making hay. Can anyone bargain for a machine that is available on subsidy?" Rajewal says, claiming that this is being done.
Refuting the allegations, Punjab agriculture secretary KS Pannu says, "Some people have started a campaign that a super SMS is available on subsidy for Rs 1.12 lakh, while the cost in the market is Rs 65,000. Such machines are available for Rs 35,000 also but they are not as per government specifications. I suggest farmers buy machines that are sold by authorised dealers."
He says that the cost of the machines are fixed by the Union agriculture ministry. There are 3,547 cooperative societies and 550 that have been supplied the machinery. A 80% subsidy is offered on machines bought by cooperative societies or by a group comprising eight members, while 50% subsidy is given to individual buyers.
The cost of other machines fixed by the government is: Rs 1.12 lakh for super SMS machines, Rs 2.1 lakh for straw chopper, Rs 1.89 lakh for reversible plough, Rs 95,000 for rotavator and Rs 50,000 for zero till drill.
Manufacturers make hay
The 150-odd farm implement manufactures in the state have seen a spurt in orders this season. These vendors comprise a majority of those who are supplying machines and implements under the stubble management programme run by the state and the Centre.
"We are facing problems in execution. There are orders from cooperative societies and groups who will pay us 20% of the cost of the machines and implements but the rest of the 80% will be paid after delivery. It is difficult to meet requirements in the absence of working capital," says Baldev Singh, the president of the Punjab State Agricultural Implements Manufacturers Association.
He says it's a tall order to supply machinery by the month-end, as required by the societies.
Personalise your news feed. Follow trending topics