Chandigarh Lit Fest: 'Ritualistic censorship needs to be challenged'
Updated on Nov 14, 2017 05:02 PM IST
A session at Chandigarh Literature Festival focused on types of censorship faced by writers and film-makers in Punjab.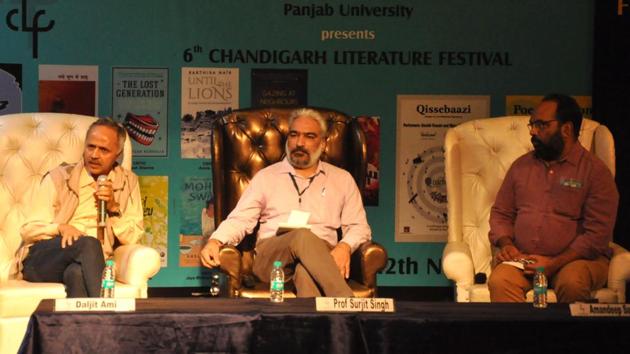 Hindustan Times, Chandigarh |
, Chandigarh
Arshdeep Arshi
Censorship in writing and film-making in Punjab was discussed at a session on the concluding day of Chandigarh Literature Festival at Panjab University on Sunday.
Surjit Singh, general secretary, Punjab Sahit Academy, said, "Ritualistic censorship of the majority needs to be challenged everywhere."
Also a Punjabi professor at Punjabi University, Patiala, Surjit was in conversation with journalist-filmmaker Daljit Ami on the topic 'Freedom of expression and Punjabi literature'. The discussion was moderated by novelist Amandeep Sandhu.
Sandhu started the discussion by introducing types of censorship that writers or film-makers face in Punjab, including sacred, state, social, and self-censorship.
Differing with the term 'sacred,' Surjit said the term was 'ritualistic' as the society has come a long way from the core of Sikhism. "Most are only aware of the last 100 years of the religion, but there is a lot beyond that," he added.
He further said, "The formation of religion afterwards created this censorship, the sense of not being critical towards religion or how film-makers can't show certain ideas on screen."
Ami further elaborated the point saying technology tried going beyond these barriers and was trying to present the incomprehensible, but censorship made that difficult.
The controversy on whether Dasham Granth was authored by Guru Gobind Singh also found its way into the talk.
Surjit said, "We have even divided Guru Gobind Singh into pieces and when we look at Dasham Granth that image does not match the one we have created in our minds. We want to keep what we like and reject everything else."
"And when such things happen, we do not let anyone write critically or engage critically with the discourses," he added, mentioning the arrest of Surjit Gag on a poem on Guru Nanak Dev.
He further said, "Guru Nanak criticised many sects and religions and we all like it, but when the angle of criticism turns to ritualistic heads of religion, they censor it."
The discussion moved onto the debate on intolerance. Ami mentioned how no one cared about the people who were killed during the Panchkula violence as they were "not seen as humans". He added that writers in Punjab who did not return their awards also faced intolerance from another set of writers.
Surjit mentioned professor Ravinder Ravi who was killed by militants after a debate during the Khalistan movement in Punjab. "Debate and its outcomes are always in the mind, but the politics of inflicting your thoughts on others can silence you at any time," he added.