For Swachh Bharat: Will Punjab be third time lucky on cleanliness? Schools on test now
Updated on Aug 12, 2017 09:25 AM IST
22 schools from state are among 643 vying for the first national Clean School Awards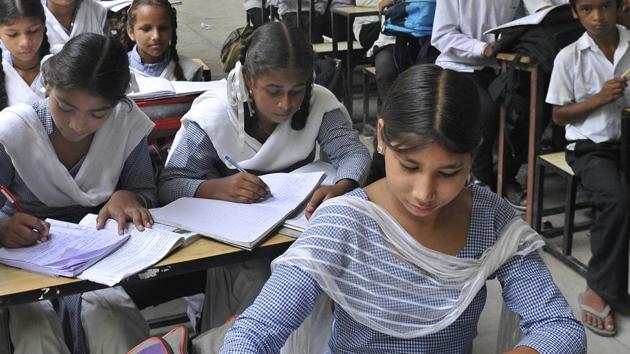 After faring poorly in national rankings of cities and railway stations, Punjab will face another cleanliness test soon — in the schools this time.
Twenty-two government elementary and secondary schools are in the race for the first national-level Swachh Vidyalaya Puraskars (Clean School Awards) expected to be announced by the Union human resource development (HRD) ministry in the last week of this month. They are among the 643 government schools vying for top honours for "excellence in sanitation and hygiene practices". The Centre plans to award 100 schools each at elementary and secondary levels.
Punjab's schools in consideration are located in 12 districts with the maximum number of entries being from Fazilka, at five. Three entries are from Ferozepur, two each from Kapurthala, Hoshiarpur, Ludhiana and Tarn Taran, and one each from Nawanshahr (SBS Nagar), Faridkot, Sangrur, Patiala and Mohali.
These schools have been selected by the state education department and the MHRD after they emerged on top in the state on parameters of cleanliness, sanitation, availability of facilities such as toilets, clean and safe drinking water, clean and green campus, hygiene habits among children, and teachers' involvement in ensuring cleanliness.
Puraskar and process
The awards are part of the Swachh Bharat Swachh Vidyalaya (Clean India, Clean School) campaign started by the Narendra Modi-led National Democratic Alliance (NDA) government. The selection process, which was started 10 months ago, saw thousands of schools from across the country submitting their entries and go through a lengthy selection process. Besides Punjab, 25 schools from Haryana, 27 from Himachal Pradesh, 40 from Rajasthan and three from Chandigarh have been shortlisted.
Though Punjab had sent a list of 40 schools to the Centre, 11 primary and secondary schools each have made it to the final round. They are mostly located in rural areas.
Government Senior Secondary School in Dhaliwal Bet village of Kapurthala district, which is spread over four acres and has 350 students, is among them. Principal Mohinder Kaur said her school filled the self-evaluation form online last year. "The school has five parks and lawns with medicinal plants, constant supply of clean drinking water, 10 toilets, and a big auditorium. We take particular care of sanitation," she said.
Hoping for redemption
A school education department official said the HRD ministry has, in collaboration with UNICEF's water, sanitation and hygiene (WASH) team, done its own independent assessment of the recommendations sent by the states. "The final awardees will be selected by a national-level committee headed by the Union secretary, school education. We are hopeful some of our schools will do well, but are keeping our fingers crossed," he said.
Maneesh Garg, joint secretary, school education, MHRD, has, in a letter to the state government, asked to complete the process of giving district- and state-level awards by August 15 and inform the ministry.
Under the Swachh Bharat campaign, the state has been a laggard so far. Not a single city from the state was among the top 100 in rankings released this year due to serious shortcomings in solid waste collection and processing and disposal. Barring the Beas railway station, most other stations in the state also did not do well in cleanliness rankings released three months ago. The Beas station, which was among the cleanest stations, is primarily maintained by Radha Soami Satsang's volunteers.
Personalise your news feed. Follow trending topics