How is craze for English spawning a mini business boom in Bathinda?
Jun 19, 2018 10:59 AM IST
As 10,000 students invade the city for coaching classes in English, Bathinda sees a spike in smaller enterprises
Ajit Road and areas close by are abuzz with activity in the afternoon as thousands of young people spill out on the streets from a number of buildings, chattering, grabbing a bite at a restaurant or relaxing. Look closer and you'll see many of them with remarkable similarities. They're ambitious, they want to fly to what they think are greener pastures, and they are here to learn English to write the International English Language Testing System (IELTS) exam.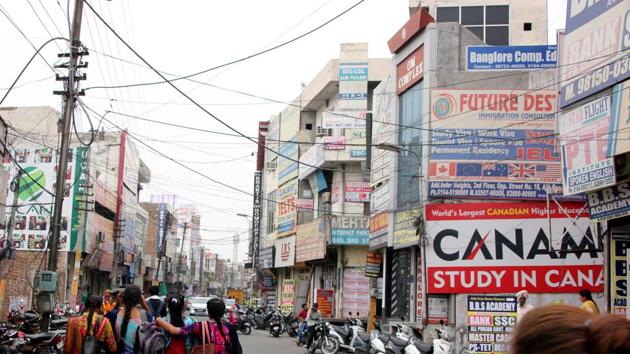 Cashing in on this demand, more than a 100 IELTS training centres as well as paying guest (temporary lodgings for which no formal rent agreement has been drawn up) rooms have sprung up here, creating employment opportunities for thousands and doing business worth crores.
After the 'Doaba' region, where immigration to Canada began on a large scale in the 1980s, now people of 'Malwa' are looking for better opportunities abroad," says Rupinder Singh,managing director, e-School of English Language.
"Every second household of Doaba, whether Jalandhar or Nawanshahar, has a family link in the UK or Canada," he adds.
IELTS scores are accepted by countries such as the UK, Australia, Canada, New Zealand and even the US for study, work and migration.
About 10,000 young people, most of them from rural areas or towns such as Mansa or Sirsa (Haryana) have been studying here, each paying a fee of ₹9,000 for IELTS classes and ₹7,000 for their PG accommodation, which means a monthly turnover of ₹16 crore for the coaching centres and PG owners.
"Thanks to these centres, numerous smaller businesses, hiring cooks, juice wallas, hairdressers, watchmen or cleaners have come up, adding to the local economic growth," says Rupinder Singh.
The institute has advance bookings for the next two batches of 500 each.
"The atmosphere abroad is better, while there is no security here (in India)," says Gurpreet Singh, 20, from Pitho village, 35 kms from Bathinda. He is spending ₹11,000 for a two-month stay at a PG and ₹8,000 for coaching.
"My cousin in Canada who drives a cargo trolley sends ₹1 lakh back home to his parents (in Pitho village) every month," Gurpreet adds. "A graduate teacher in India does not even earn half of that money."
Gurpreet's father owns a good 10 to 12 acres in the village, "but farming has no future in Punjab now," he says.
Bawalpreet Kaur from Fazilka, who has just cleared MA (economics) from Punjabi University, Patiala, studies with 35 others in another English coaching class. There are no job options in India,she says. "We were a batch of 80 students (at the university), and only four to five got a decent job in their own (study) field," she says.
Nikhil Dhingra, a mechanical engineering graduate from Punjabi University, Patiala, who runs Halls of IELTS, says he was jobless after studies. "Then, after working in an immigration office and also passing IELTS I realised it was good business (seeing the demand)," he says.
Several coaching centres have tie-ups with visa consultants. Parminder Sharma, another BTech graduate, who works as a visa 'counsellor' claims his office gets 15 student visa seekers every day.
Business is brisk with so many young students around. So if a eatery gets 100 fresh egg rolls ready at 8 am, the hairdressers too aren't left cooling their heels. "Customers now have a choice as over a 100 hairdressers have set up business in the area in the last one year," says Khan, who uses just one name. He says he earns ₹20,000 a day.
The Bathinda police have enlisted 187 PGs existing in the city as a part of their drill to maintain law and order, but the HT team spotted many PGs not on their list. "Many more PGs have come up and we have to be always remain alert," says SP (city) Gurmeet Singh, referring to a recent incident in which some snatchers took shelter at a PG.