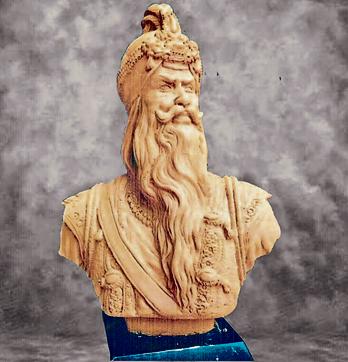 Maharaja Ranjit Singh's bust to be unveiled at France's St Tropez on Sept 17
A bronze statue of Maharaja Ranjit Singh is to be installed and unveiled in Allard Square at Saint Tropez, France, on September 17.
UPDATED ON SEP 14, 2016 03:21 PM IST
A bronze statue of Maharaja Ranjit Singh is to be installed and unveiled in Allard Square at Saint Tropez, France, on September 17.
The bust to be installed is the one which was presented to the people of France by the Punjab government. Chief minister Parkash Singh Badal handed over this bust to French ambassador to India, Alexander Ziegler, during his visit to Punjab Bhawan, Chandigarh in July this year.
Must read | Why Ranjit Singh's statue in France?
This statue will be unveiled at St Tropez in a grand affair. The event will underline the close historical links between Punjab and this coastal town of France. UK-based, Sarkar Khalsa Foundation (SK Foundation), which works with government NGOs and organisations to preserve and restore derelict Sikh monuments in Pakistan, had presented this project to the mayor of Saint Tropez, Jean-Pierre Tuveri.
President of the foundation, Bobby Singh Bansal, who is a UK-based historian, writer and filmmaker, said, "The statue to be installed in Allard Square is a gift by the Sikh community to St Tropez. It will give visibility to the Sikh communities in Europe particularly in France." "The aim is to promote and preserve the historical close links that both the countries share," he added.
In 2015, Bansal visited India with a French delegation with an aim to bolster commerce and trade between France and India, especially with Punjab, by promoting Punjabi heritage among the Sikh community in France.
In July 2015, he visited the Centre on Studies in Sri Guru Granth Sahib of Guru Nanak Dev University.
He talked about Europeans at the court of Maharaja Ranjit Singh and talked about a 25-minute-long documentary, in which he has filmed the legacy of Maharaja Ranjit Singh and the monuments connected to his reign.
The historical
connection
The Sikh emperor Maharaja Ranjit Singh had appointed French warrior General Jean Franquis Allard (from Saint Tropez) to modernise his army and check the expansion of the British Raj. Bobby said that the mayor of St Tropez, Jean-Pierre Tuveri, under the initiative of his deputy in-charge of tourism Henri Prévost-Allard (descendant of General Allard), has keenly looked at the project presented by Bobby and Du Conseil Representatif des Sikhs de France president Ranjit Singh Goraya. The mayor believes that this will be a befitting tribute to the Maharaja, who was served by General Allard. "He was the first French officer along with General Ventura (an Italian), who in 1822 arrived in Lahore, were enlisted to the services of Maharaja Ranjit Singh and trained the Sikh army to meet the European standards. They completely modernised the Sikh army," said Bobby. Punjab and St Tropez share deep connections, this is evident from the fact that General Allard was born in St Tropez and was buried in Lahore.
About the statue
The bust has been sculpted by Prabhat Murti Kala Kendra in Gwalior. It is 2 feet 8.68 inches tall and weighs 110 kg. This bust will be unveiled by a military ceremony in presence of French as well as Indian dignitaries. "It will be a grand affair and will witness the presence of St Tropez's Mayor, French dignitaries, Punjab tourism minister Sohan Singh Thandal, Indian ambassador to France Dr Mohan Kumar and other dignitaries. 300 people will attend the unveiling ceremony," said Bobby.
Close