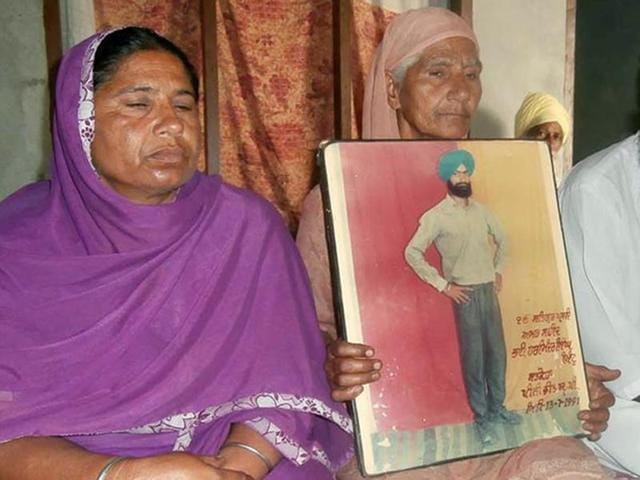 Pilibhit verdict: For Gurdaspur families, justice delayed, not denied
Redemption and justice came 25 years late for two Gurdaspur families, but the burden of their slain kin being called terrorists is finally off their chests.
Hindustan Times | By Vishal Sally
, Batala
UPDATED ON APR 06, 2016 10:53 AM IST
Redemption and justice came 25 years late for two Gurdaspur families, but the burden of their slain kin being called terrorists is finally off their chests.
After a special Central Bureau of Investigation (SBI) court on Monday sentenced 47 policemen to life imprisonment for killing 11 Sikh pilgrims in a fake encounter in Pilibhit district of Uttar Pradesh (UP) on July 12, 1991, two families who lost their kin in the incident opened up to Hindustan Times on Tuesday.
Four months into her marriage, Swaranjeet Kaur of Satkoha village was left widowed after her husband Harminder Singh, aka Minta, was rounded up and killed along with 10 others while on way to Gurdwara Nanakmatta Sahib by the UP Police.
"Cops took away 11 youths, including my husband, from our bus. Later, they took our bus from one place to another. Finally, we were kept besieged overnight in a gurdwara at Pilibhit. In the morning, police left, abandoning us there," she said.
Also read: Pilibhit fake encounter: 'Will seek death penalty for guilty cops'
Swaranjeet was kept in the dark about her husband's murder for three months. "My in-laws told me that police had lodged him in jail on charge of having links with terrorists. After some months, my parents visited my in-laws and were told that Harminder was murdered by the police," said Swaranjeet, who was pregnant when her in-laws broke this traumatic news.
"I was shocked and lost the will to live. The child in my womb kept me alive, and I made up my mind to fight till the tag of terrorist is removed from my deceased husband's name," she said.
The family did not give up the fight all these years, and even now some of her kin are at Pilibhit. Only "partially satisfied" by the verdict, Swaranjeet said: "Although it took 25 years to punish the cops who murdered my husband, I am happy that finally they have been punished for their wrongdoing."
Fake encounter beginning of an ordeal for her
The fake encounter that claimed the life of her two brother-in-laws was just a beginning of an ordeal for Surinder Kaur of Arjunpur village.
After getting news about the death of Baljeet Singh, aka Pappu, and Jaswant Singh, aka Jassa, Surinder and her husband, Nishan Singh, an employee of the Punjab State Electricity Board, went to Pilibhit to claim their bodies.
The UP cops, however, arrested the couple, accusing them of having links with terrorists too. With a case under Terrorist and Disruptive Activities (Prevention) Act slapped on her, Surinder Kaur remained in detention for three years, not allowed to meet her kin.
"It was only after I got bail after three years, I came to know that my husband had been killed by the cops," alleged Surinder. Unable to bear the agony, her father-in-law died as well, she said.
It took Surinder Kaur 16 years to get an acquittal in 2007. Now, with the Monday sentencing of 47 cops, she says justice has been served to some extent.
However, the fight for her deceased husband still remains. "Feeling encouraged with the judgment, I am going to seek justice for my husband in the court and seek death penalty for the accused," she said.
Close