Punjab govt to take Rs 10,000-crore loan to write off farmers' loans
Finance minister denies govt statement that CM asked Jaitley to convert Rs 6,000-crore crop loan into term loan; says need Union minister's help to identify debt-ridden farmers, to meet bankers today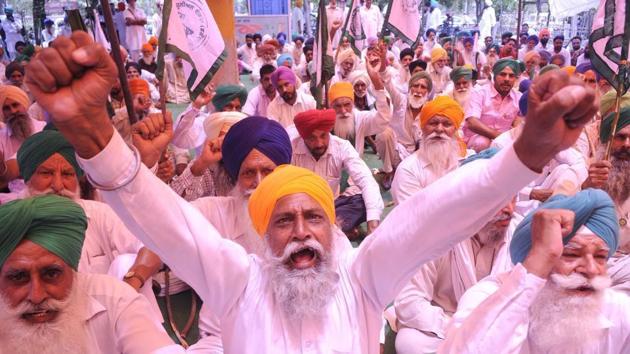 Updated on Jul 24, 2017 10:35 PM IST
What the previous Parkash Singh Badal government in Punjab was doing to meet its populist schemes and "sangat darshans", the incumbent Congress government will be doing within a few months of coming to power to meet its lofty poll promises — raise a loan to pay off farm debt.
With no money in the state treasury to fund even the Rs 9,500-crore debt relief announced by the Congress government for farmers, Punjab finance minister Manpreet Badal will meet representatives of banks on Tuesday to negotiate a term loan of Rs 10,000 crore.
The state will stand sovereign guarantee for the loan that will help it write off farm debt of Rs 2 lakh each of the 10.25 lakh marginal (with up to 2.5 acres of land) and small farmers (with up to 5 acres of land).
Denying a government press statement issued last week after meeting of chief minister Captain Amarinder Singh with Union finance minister Arun Jaitley in New Delhi, Manpreet said on Monday that they had not sought the FM's intervention to convert the Rs 6,000 crop loan of small and marginal farmers from national and private banks into a term loan or its one-time settlement.
The minister, who too was part of the delegation, said: "We had requested the Union minister to give directions to the Reserve Bank of India (RBI) to ask banks to share the profile of farmers with us. The data on crop loans is collated at every state-level bankers' committee (SLBC) meeting. It is in the public domain. But the name and other details of farmers are confidential information, which banks can share with us only if farmers allow banks and the RBI asks banks to share it with the Punjab government."
Other than the name and bank details of the beneficiary, the government needs to know if he holds single or multiple loan accounts, he added.
So far, the expert panel set up by the Amarinder government under T Haque to assess the quantum of agriculture debt in the state and suggest ways and means for its waiver, has only been able to work out the source of loans and the criteria for identifying the beneficiaries.
According to the panel, Rs 3,600 crore loan of 6-lakh small and marginal farmers came from cooperatives and Rs 6,000 crore of the remaining four lakh farmers came from national and private banks, whom the CM has accused of giving "unethical loans and pushing farmers deeper into the debt trap".
Close Story