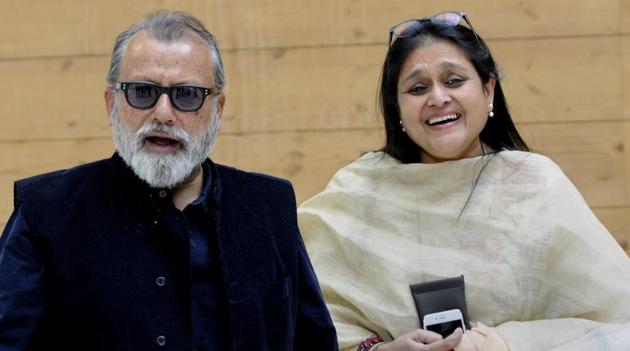 Punjab is a land of great writers and actors, says Pankaj Kapur
A native of Ludhiana, he says Punjabis are distinct because they have a good sense of humour and every household here has an interesting story to tell.
Hindustan Times, Chandigarh | By Neeru Saharan
, Chandigarh
UPDATED ON DEC 02, 2017 11:53 AM IST
An actor's journey is all about expressing creativity, and learning and evolving as a human being, says actor and playwrite Pankaj Kapur.
He is in Chandigarh to stage a play, 'Dreamz Sehar', with his wife and co-actor, Supriya Pathak, at the Tagore Theatre on Saturday.
About the play's content, he says the one-hour-long act focuses on the difference between dreams and reality. Set in the hill town of Kasauli in Himachal Pradesh, the story depicts a one-night encounter between Sehar, played by Supriya, and professor Sanjay Mishra, played by Pankaj.
Need to contemporise ancient text
Speaking on the trend of adapting foreign work into theatre in India, Pankaj says, "Though there have been many adaptations, but this is irrelevant. We need to have something that is related to our land and culture. We have works of amazing writers like Kalidas and Bhas. All we need is to contemporise them in an entertaining way."
About the scarcity of playwrights in India, he stressed that we need to pay them better to encourage them to continue. "In India, writers are underpaid. Universities should start new courses to create more opportunities for them," he said.
"I became a writer out of the desire to express myself. Drama should be taught in schools to have more artistic people," he added.
Artiste should responsibly shoulder responsibilities
The Karamchand fame actor also believes that creative people should shoulder their responsibilities towards the society with an honest approach instead of getting deliberate and political.
Speaking about his association with Punjab, Pankaj says, "If offered a good role, I would like to work in a good Punjabi film. This land has produced great writers, poets and actors. Half of the film industry comes from Punjab."
A native of Ludhiana, he says Punjabis are distinct because they have a good sense of humour and every household here has an interesting story to tell.
Reminiscing his first performance in Chandigarh, Pankaj says after excerpts of his novel 'Dopahar' were published in a Bhopal-based magazine, the director Ram Gopal Verma asked him to read a part of it at the National School of Drama. "This brought me to Chandigarh, a city which provided me a learned audience and a memorable experience," he says.
On the other hand, when asked about her relationship with her spouse, who is also a colleague, Supriya said, "I have worked for so many years and Pankaj always motivates me with his hard work and the ability to do something different every time."
"Our chemistry has just got better," she adds. About her Gujarat connect she said, "I have a strong attachment with the state and after being inspired by mother Dina Pathak, a veteran actor, I performed my first play in Gujarati."
As for Pankaj, he will be seen in Ketan Mehta's film 'Toba Tek Singh' that is likely to be released later this year.
Close