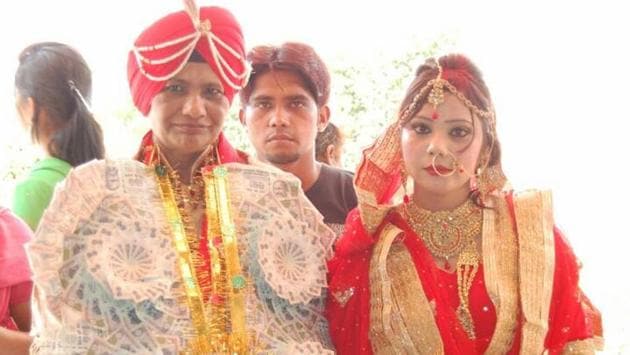 Punjab woman cop marries same-sex partner in Jalandhar
In what could possibly be the first instance of a same -sex marriage in Punjab, a Punjab police assistant sub-inspector (ASI) Manjeet Kaur Sandhu (35) tied the knot with her 30-year-old same-sex partner in the city on Saturday.
UPDATED ON APR 26, 2017 05:59 PM IST
Few days after a same-sex marriage in the city got reported, Manjit Sandhu (44), who tied the knot with her 27-year-old same-sex partner, denied some of the facts that had been circulating in the media, saying "it is intrusion of my privacy."
"I am not a police officer and have not undergone any sex-change procedure," Manjit, who works as a warden for the state government, said.
Condemning the media for spreading false information, she said her marriage was a personal affair and was not meant to be publicised.
"Family members from both sides support the marriage and were present during the ceremony," she said.
The couple solemnized their marriage as per Hindu rituals at a temple situated in the Pucca Bagh area of the city.
After the marriage, the couple held a reception in a city-based hotel that was attended by family members, neighbours and relatives.
Manjit, who has been working for the last eighteen years, brought her 'spouse' home, donning a red turban and riding a chariot and was welcomed relatives and family members. The name of Manjit's spouse has not been disclosed.
Video clippings and pictures of the wedding went viral on the social media within hours and received a mixed response.
As per Supreme Court order, same-sex marriage is a criminal act. The marriage is being considered a symbolic act in support of LBGT community's protest against apex court ruling of Section 377 of Indian Penal Code (IPC) that criminalises sexual activities "against the order of nature", including homosexual sexual activities.
(An earlier version of this story incorrectly reported that Majeet Kaur is an ASI with the Punjab police.)
Close