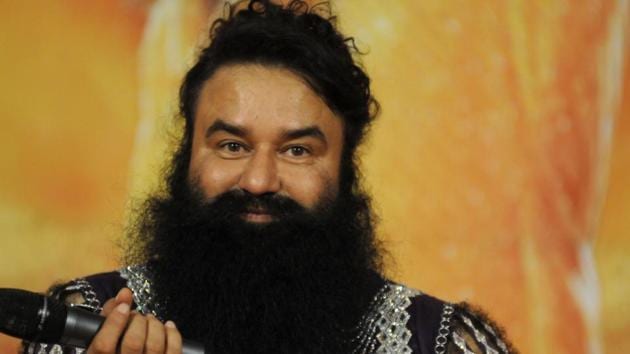 Ram Rahim, convicted of rape, one of many controversial babas, gurus: Here's a quick look
A CBI special court on Friday held controversial Dera Sacha Sauda sect chief Gurmeet Ram Rahim Singh guilty of raping two female disciples.
By Agencies
UPDATED ON AUG 25, 2017 05:01 PM IST
Dera Sacha Sauda chief Gurmeet Ram Rahim Singh was held guilty by a court on Friday of raping two female disciples.
Police fired teargas to disperse his supporters, some of whom threw stones after the court verdict was announced. Television showed pictures of a media van with a cracked windscreen.
Singh is one of the several self-styled godmen and cult leaders to be embroiled in scandals in recent years:
Rampal
In November 2014, five bodies were discovered by the police after they stormed the ashram of a self-styled godman, Rampal, in Haryana's Hisar. Another of the man's followers died in hospital. The police were seeking Rampal's arrest after he refused court orders to appear to answer charges including conspiracy to murder, inciting mobs and contempt of court.
Rampal considers himself an incarnation of the 15th-century poet Kabir.
The ashram was guarded by hundreds of followers for several days. Police fired water canon and lathi-charged the supporters who were armed with stones, petrol bombs among other weapons.
Some followers later came out of the ashram, saying they had been held at the ashram against their will.
Followers said the guru regularly bathed in milk, which was then used to make kheer that they believed could cure illnesses.
Asaram Bapu
Asaram Bapu, who once condemned Valentine's Day as encouraging young people to engage in "dirty acts", is charged with several offences including rape, trafficking and sexual crimes against minors.
In 2013, police arrested him after a 16-year-old girl accused him of raping her on the pretext of ridding her of "evil spirits" during a retreat for followers.
Hundreds of the 76-year-old's supporters clashed with television news crews and police after his arrest. Since then at least three key witnesses have been shot dead.
In his preachings, he had urged followers to live a "pious life" free of sexual desires.
Ashutosh Maharaj
Devotees of Ashutosh Maharaj, who died in January 2014, are preserving his body in a freezer and insist he is in a deep meditative state.
The founder of the multi-million dollar Divya Jyoti Jagriti Sansthan (Divine Light Awakening Mission) sect apparently died of a cardiac arrest.
But his followers say it is a spiritual state called samadhi and have kept his body in a freezer at his heavily guarded 100-acre (40-hectare) ashram in the northern state of Punjab.
One man who claimed to be his former driver has alleged that followers were refusing to release the body because they wanted a share of the guru's assets.
Chandraswami
Controversial godman Chandraswami was said to be a close friend of then Prime Minister PV Narasimha Rao and allegedly involved in the assassination of former Prime Minister Rajiv Gandhi.
He died recently after suffering a stroke.
In its report on the assassination, the Jain Commission dedicated a volume to his alleged involvement in Rajiv Gandhi's assassination.
Allegations of financial irregularities were often levelled at the long haired, white robed self-proclaimed godman. In 1996, he was arrested on charges of defrauding a London-based businessman. He also faced charges for repeatedly violating the Foreign Exchange Regulation Act.
Swami Nithyananda
Swami Nithyananda faces a series of assault and sexual abuse charges, although he has never been convicted.
Five women accused the 40-year-old of abusing them at his Hindu religious retreat in Karnataka. He was held in jail for 53 days in 2010 after a sex video scandal.
When a local television station aired the footage purportedly showing him fondling two women, angry villagers attacked his ashram, where devotees practise yoga and follow spiritual teachings.
Nithyananda, who also operates a meditation centre in Los Angeles, has claimed to possess paranormal powers of levitation.
Violent past of Gurmeet Ram Rahim's followers
In May 2007, violence erupted after Gurmeet Ram Rahim allegedly mimicked the 10th Sikh guru, Guru Gobind Singh.
After the case of alleged blasphemy — the court case has been closed after the complaint was withdrawn — Punjab and Haryana had witnessed bloody clashes between the Sikhs who took offence and the dera's followers. Three people were killed in Punjab and hundreds were injured during the clashes. More than 50 policemen were injured during the clashes with dera followers in Bathinda.
Some dera followers burnt buses in Bathinda and Mansa and even a broadcast van of a news channel. Residents said an undeclared curfew prevailed in the district for nearly 10 days.
Bloody clashes between police, Mathura cult leader's followers
In April 2014, Ram Vriksha Yadav, a small, greying man in dhoti-and-kurta, took over a park in Mathura with around 500 armed followers for a two-day protest.
But members of the Swadhin Bharat Vidhik Satyagrah – and its armed wing Subhash Sena – never left, occupying the public space to turn it into what appeared to be the headquarters of a self-styled revolutionary group. The local people called them 'Naxalites'.
Little was known about the group until the point the police clashed with thousands of its followers, trying to clear out some 3,000 squatters on court orders. The violence left 24 people dead, including the Mathura superintendent of police.
With 'Jai Hind, Jai Subhash' as the motto, Yadav appears to have forged a militant outfit that sought to indoctrinate and give arms training to local teenagers, seeking to replace the present-day political system with their own vision of a Bose-inspired world.
Piara Singh Bhaniarewala
Another controversial godman is self-proclaimed baba, Piara Singh Bhaniarewala, who heads the Baba Bhaniarewala sect based in Ropar district. He says he has penned his own holy book and his followers have been accused of burning the Guru Granth Sahib.
Agence France-Presse contributors
Close