'Straw burning won't stop till govt gives alternate solution': Farmers at Ludhiana's Kisan Mela
Updated on Sep 23, 2017 03:16 PM IST
Farmers claim that lack of subsidy, inefficient machinery are restricting them from dealing with straw in a sustainable manner; finance minister implores farmers not burn straw at Kisan Mela.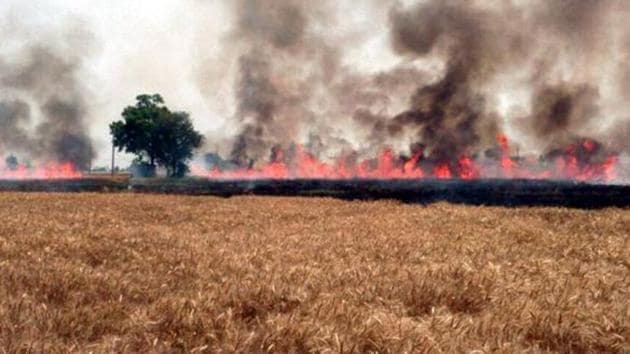 Hindustan Times, Ludhiana |
, Ludhiana
Harsimran Singh Batra
At a time when straw burning has become a major environmental issue, the absence of any subsidy on farm machinery is restricting farmers from using them. As per the experts at Punjab Agricultural University (PAU), this is useful for settling the paddy straw before sowing the next crop.
The two-day golden jubilee Kisan Mela commenced at PAU on Friday. Finance minister Manpreet Badal was the chief guest. The theme of this year's mela is to urge the farmers to cut their expenses on social functions.
Farmers at the mela said that the machinery was not fully capable of clearing the field and the university needed to work on the matter. They added that the government should start purchasing straw from farmers.
A farmer from Moga, Shamsher Singh, said that the farmers have been running from pillar to post to get subsidy on the machinery which was prescribed for dealing with the straw. He added that earlier, 50% subsidy was given on machinery but since the Congress came to power there was no clarity regarding subsidy. He further questioned Badal, who assured of looking into the matter.
Another farmer from Zira, Davinder Singh, said that they came to the mela to see the machinery on display as PAU and government both were asking farmers to use technology for dealing with straw rather than burning it. However, the machines displayed by the university were not efficient enough.
Another farmer from Jagraon, Jaswant Singh, said that the machinery on display was too expensive and government should provide some subsidy. He also asked what will happen to their old machinery if they started using the new.
He added that straw burning will continue till the government comes up with a concrete solution such as purchasing straw from the farmers. Meanwhile, the PAU authorities displayed different techniques and machinery which could be used for straw management at the mela.
Badal said that government was working to find a concrete solution for farmers' problems. He further urged farmers not to burn the straw as it was harmful to the environment.
Personalise your news feed. Follow trending topics