The 'forever gambler' called Dev Anand
Updated on Dec 03, 2015 09:48 AM IST
It's been four years since the 'Munimji' actor died of cardiac arrest, leaving his fans crestfallen.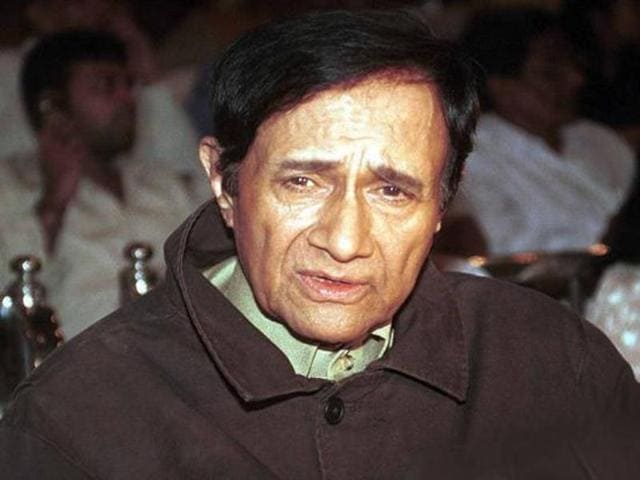 Hindustan Times |
Rakesh Chopra
'Jeevan ke safar mein rahi milte hain bichhad jane ko, aur de jaate hain yaadein tanhai mein tadpane ko'. It's been four years since the 'Munimji' actor died of cardiac arrest, leaving his fans crestfallen. The man who did not go to others' funerals did not wish that others come to his. Perhaps that's why he chose to die in faraway London. Today as I think of the ageless wonder called Dev Anand, I marvel at what kept him ticking long past his saleable date. I haven't watched most of his films that followed 'Swami Dada' for he was way past his prime by then. But it was only because the man breathed cinema that he could make a film called 'Hum Naujawan' well into his late sixties and 'Chargesheet' into his late eighties.
Born in pre-Partition Gurdaspur in Punjab, he was once visiting the Hall Bazaar in nearby Amritsar when a juice vendor had a look at him and said he had the 'sun' on his forehead and would go places in life. Though Dev did not think much of it then, he kept looking for the 'soothsayer' in later life. It was his confidence that led him to try his luck in tinsel town. Armed with a BA English Honours degree from Government College, Lahore, and `30 in his pocket, Dev took the Frontier Mail to Mumbai.
After initial struggle, he made his debut with Prabhat Talkies' 'Hum Ek Hain' in 1946. He struck a friendship with Guru Dutt and they made a pact that in case Dev made a film, Guru would direct it; and if Guru produced a film, Dev would act in it. Dev honoured the commitment with 'Baazi' and Guru returned the compliment with 'CID'.
India's Gregory Peck fell in love with co-star Suraiya, who reciprocated the sentiment. He even bought a diamond ring and proposed to her, but Suraiya's grandmother did not approve of the inter-faith alliance. It broke his heart and he literally cried. Then he was in a relationship with Christian girl Mona Singha, the 'beauty queen' from Shimla, who was the find of his elder brother and filmmaker Chetan Anand. Chetan rechristened her as Kalpana Kartik, who starred opposite Dev in a few films before they secretly married on the sets of 'Taxi Driver'.
Dev floated the banner Navketan Films and with younger brother Goldy Anand gave hit after hit. Their film 'Kala Pani', based on Scottish author AJ Cronin's novel 'Beyond This Place', won him the Filmfare for the best actor. He repeated the feat with 'Guide'. He was so enamoured of RK Narayan's story that he offered the writer a blank cheque. But Narayan being a simple man accepted only a few hundred rupees. Dev also coproduced the English version of the film with eminent writer Pearl S Buck.
The Dada Saheb Phalke awardee had an ear for music and was fully involved in this aspect of filmmaking, SD Burman being his favourite composer. When once asked how could he risk his ventures by launching newcomers like Zeenat Aman in 'Hare Rama Hare Krishna' and Tina Munim in 'Des Pardes', he replied that he was a "forever gambler".
Beginning with 'Afsar', Navketan produced some 40 films, many of them blockbusters. These include 'Kala Bazaar', 'Tere Ghar Ke Samne', 'Hum Dono', 'Jewel Thief ', 'Tere Mere Sapne' and 'Johny Mera Naam'. Dev turned director with 'Prem Pujari' that had the India-Pakistan war as its backdrop. The Padma Bhushan recipient also starred in maximum solo-hero films, next only to Rajesh Khanna.
His association with Kishore Kumar that began with 'Ziddi' in 1949 was legendary. When the singer would ask him as to how he wanted a particular song to be sung, Dev would tell him to sing in whichever way he wanted, as the actor would later enact it that way.
In a career that spanned more than six decades, Dev had quite a few heartbreaks. He never fully got over the Suraiya episode; brother Goldy also parted ways; and his daughter Devina's divorce made him cry once again. But, as nephew Ketan Anand in a recent interview put it, the Anands knew how to bounce back. And so did Dev, his credo being that popular refrain from 'Hum Dono' — "Main zindagi ka saath nibhata chala gaya, har fikr ko dhuein mein udaata chala gaya".
Personalise your news feed. Follow trending topics