Turning 18 with HT: 'Chandigarh needs to be safer for women'
She wants to be the reason for the smile on people's faces and wants to open an NGO. Meet Shivalik Public School's Janvi Chhabri.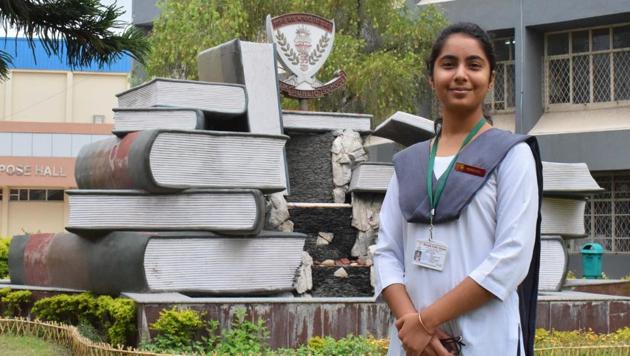 Updated on Apr 16, 2018 12:22 PM IST
Daddy's girl Janvi wants to know why people yearn for sons when it's daughters who do them proud; she says our nation will be developed only when women get their due.
Name: Janvi Chhabri
Born on: May 23, 2000
Badge of honour: Head girl, Shivalik Public School, Sector 41, Chandigarh
What turning 18 means to me
It's a step towards maturity as I head out of school into college. Till Class 10, life was a yummy ice-cream. Classes 11 and 12 brought me face to face with reality. I faced competition at the coaching centre for engineering entrance exams and became tougher. I'm excited about holding a driving licence and look forward to voting, too.
What I want to be and why
I want to be the reason for the smile on people's faces. My heart is in social service. I hope to open an NGO. But I'll study engineering and prepare for the civil services. It'll prepare me better to take the plunge into social service. Nothing is easy till you don't put in any effort but nothing is tough till you put in all your effort.
My idea of India
I love India and its diversity. I want to tell critics that they should be the change they want to see in our country.
What makes me happy
I find happiness in little things. A tight hug, chocolates, a perfect score…all make me happy. The ultimate happiness is to see a satisfied smile on the faces of my parents. My father, Devinder Chhabri, is in a private job into bank recovery and my mother, Veena, is a pre-school teacher. They along with my brother, Vishav, a Class 7 student, are my world.
What makes me angry
I can't stand hypocrisy, backbiting and double standards. I believe one should be true to oneself and to others. I get angry when people judge others without knowing them or their circumstances.
My fear and fantasy
I fear reptiles, including lizards. But my biggest fear is that I should not let down anyone, particularly my parents.
I wish I have a fridge full of chocolates and a black sports car…I want to live life to the fullest. I want to visit at least one country in each continent. .
Am I happy where I am?
Yes, I'm entering college. No more uniforms and no more PTMs. There is so much to explore and learn.
What money means to me
Money is necessary to survive but it's not everything. It can buy happiness to a certain extent but it can't get you unconditional love and peace of mind. It's sad to see people running after money and neglecting their families, particularly parents.
What makes me proud of India
I'm proud of our Constitution that gives all citizens the right to equality. All are equal in the eyes of the law whether you are a Bollywood celebrity or an aam aadmi.
What I can't live without
Self respect and dignity. Otherwise, one just exists.
What social media means to me
It's a boon and a bane. It all depends on how it is used. It helps share information and knowledge yet one has to be careful that one's security does not get compromised. I use my mother's WhatsApp account at times but Facebook never excited me.
What religion means to me
All religions hold similar values. I believe in Lord Krishna and am grateful for His blessings.
Change I want to see in Chandigarh
Chandigarh is my favourite city because it is planned and beautiful. But it needs to be safer for women. Besides changing the mindset, steps such as increased CCTV surveillance and more cops on night duty can help bring down crime against women.
Change I want to see in India
India will soon be a developed nation materialistically. It needs to be developed in terms of women's safety and empowerment, too. Why do people yearn for sons when it's daughters who do them proud? Why can't people accept their daughter as such rather than saying she is like their son.
My role models and why
My uncle, Captain Purshottam Chhabri, a former Indian Air Force officer, and now a chopper pilot. He values relationships and people and goes out of his way to help others despite his limited resources. I want to be like him. My paternal grandmother, Vidya Chhabri, has taught me to be independent, tough and cheerful. People say I look like her. When I talk to her, I feel like I'm talking to my inner spirit.
Close Story