Balan may act in Nagpuri film if script is appealing
Apr 09, 2017 01:51 PM IST
Begum Jaan is the first commercial Bollywood film made under the Jharkhand film policy, 2015.
Actor Vidya Balan, whose film Begum Jaan, shot in Dumka is set to release on April 14, on Saturday said she won't mind acting in a Nagpuri film if the script appealed to her.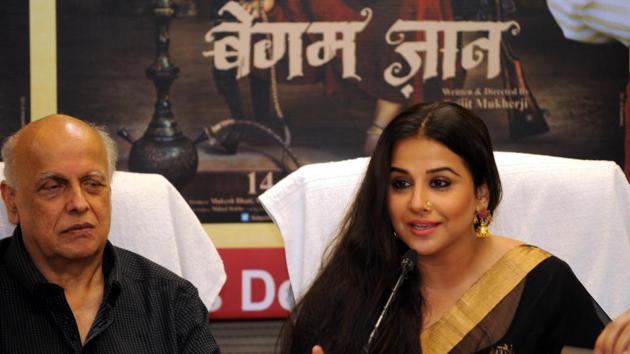 "I am a hungry actor. If I get a good script, I will work in a Nagpuri film, for sure," she said during an event in Ranchi.
Nagpuri is one of the largely used local dialects in the Chhotanagpur region of Jharkhand. Several Nagpuri films and music videos have been shot in the state with local actors, but failed to appeal to viewers outside Jharkhand. Today, the Nagpuri film industry, also known as Jhollywood, is struggling for a national identity and has failed to compete with other regional film industries in the south and neighbouring West Bengal.
Balan was here along with producer Mahesh Bhatt and film director Srijit Mukherjee to promote Begum Jaan, which is a remake of Bangla film Rajkahini, and revolves around the lives of prostitutes during the India-Bangladesh partition.
Begum Jaan is the first commercial Bollywood film made under the Jharkhand film policy, 2015.
Overwhelmed by the hospitality in Jharkhand, the trio also shook a leg with tribal dancers to 'nagada' and 'maandar' beats on the Soochna Bhawan campus in Ranchi.
Mahesh Bhatt lauded the Jharkhand government's promptness and initiatives in making filmmaking hassle free in the state.
"If you want to work with momentum, go to Jharkhand," he said, thanking chief minister Raghubar Das and his team for facilitating film shooting here.
Director Srijit Mukherjee said the state's film policy is a "godsend" for him. Rajkahini too was shot at the same location, but Jharkhand was still framing its film policy then.
"Our set was in the open, and the state government provided foolproof security to ensure there were no untoward incidents," Mukherjee said.
Under Jharkhand's film policy 2015, a Hindi language film shot in Jharkhand would be given 25% subsidy in the total cost or maximum Rs 2 crore subsidy, officials said.
The state has also identified a 200-acre plot for its proposed film city in Patratu, around 45 km from capital Ranchi.