In bombing offensive to hole out top Maoists, Burha Pahar villagers to be evacuated
CPI (Maoists) says bombardments are a conspiracy to get the area cleared for upcoming Kutku Dam project.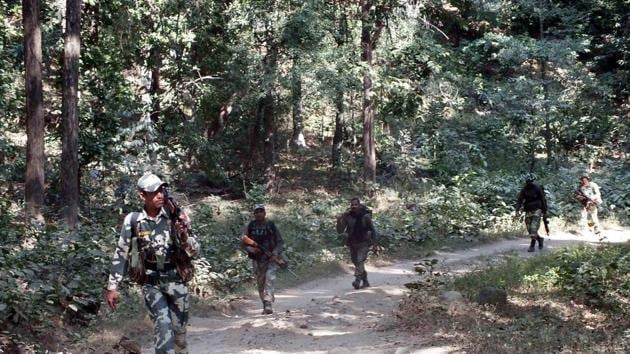 Updated on Dec 02, 2017 09:59 PM IST
Hindustan Times, Garhwa |
, Garhwa
Vishal Sharma
The Jharkhand government has directed the local administration on Saturday to evacuate villagers from Burha Pahar region, which has been witnessing repeated bombardments following the heavy offensive over a month by the security forces aimed out at rooting out top Maoist commanders.
A joint team of Jharkhand and Chhattisgarh forces and para-military personnel are conducting a major anti-insurgency operation in the hilly and heavily-forested Burha Pahar, located in Garhwa district of Jharkhand bordering Chhattisgarh.
The area is said to be a safe hideout for top ultras, who are fortified by the land mines surrounding it. Nearly a dozen security personnel have been injured in at least two cases of landmine blasts in the past month.
Chief secretary Rajbala Verma and director general of police DK Pandey held a review meeting in Garhwa on Saturday.
Sources said the top officials thrashed out strategies for the offensive, besides deliberating on the development projects the government is planning for the area.
Officials said the local administration was directed to get the area cleared even as the Jharkhand police chief warned top Maoist commander Arvindji, who is reportedly holed up in Burha Pahar, to "surrender or be ready to face bullets".
"The chief secretary has directed senior district officials to ensure that the villagers from the Burha Pahar region were shifted out at the earliest," a senior official told HT.
Verma has also asked the officials to draw out a detailed development plan for the area, the official said.
The state officials also reiterated the government's resolve to get Burha Pahar liberated from the Maoists by December end while reviewing the administration's support to the operation.
The CPI (Moist), however, described the anti-Maoist offensive a conspiracy to displace locals from their 'jal, jungle and zameen' (water, forest and land).
In a statement released on Saturday in neighbouring Palamu district, CPI (Maoists) spokesperson for Bihar-Jharkhand special area committee (BJ-SAC), Gopal said: "The present offensive at Burha Pahar that began on October 29 is aimed to terrorise local villagers so that they abandon their right on jal, jungle and zameen without resistance, thus paving way for the construction of pending Kutku Dam."
Criticising the security officers for attributing the sounds of heavy blasts to the landmine explosions triggered by the Maoists, Gopal added, "They used light Bofors-like long-range heavy artillery gun to shell the area for four days from October 23 and put the blame on us. We condemn the use of weapons used on borders against us."
Meanwhile, speaking to media here after the review meeting, DGP Pandey said, "Arvind should come out of forests and surrender. We will extend all benefits as per our surrender policy. But if he continues to hamper development, he will be terminated with bullets."
Close Story