Tamizh Padam 2 movie review: This spoof forgives no one
Jul 12, 2018 05:15 PM IST
Tamizh Padam 2 movie review: Taking potshots at everything from demonetisation to Rajinikanth, the Shiva-starrer is a rip-roaring spoof.
Tamizh Padam 2
Director: CS Amudhan
Cast: Shiva, Sathish, Ishwarya Menon
Rating: 2.5/5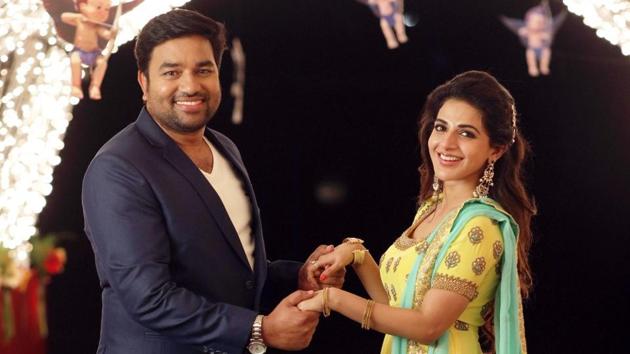 At a time when the world lives and breathes memes and a new hater is born online every second, here is a film that is dedicated to trolling everything and everyone. From Prime Minister Narendra Modi's famous 'mitron' to Rajinikanth's 'magizhchi', there are no holy cows for Tamizh Padam 2.
Tamizh Padam let Tamil cinema laugh at itself in 2010. In 2018's sequel, the film takes a satirical aim, at the cost of repetition, at everyone – from the mannerisms of film actors considered demi-gods by their supporters to their harebrained films, from memes that went viral to political leaders.
Actor Shiva plays his namesake in Tamizh Padam 2 and takes you on quite a ride. The film throws you broad hints and you are supposed to be quick on your feet and make connections to the original film being spoofed. The result of your quick legwork is laugh out loud moment.
The formula of the spoofs hasn't varied in the right years it took to bring out the sequel – take a clichéd story and fill it to the brim with humour. Once you get used to the pace of the film, it is a joyride ahead.
However, the targets the makers have chosen this time are all new. The highlights are popular scenes such as Karthik falling in love with Jesse in Vinaithaandi Varuvaaya, the climax of Vivegam with Kajal Aggarwal singing and the end of Kamal Haasan's Devarmagan find a mention in the Shiva film. His comic timing are impeccable and we get some great insights into the glossy world of entertainment too.
With Tamizh Padam 2, director CS Amudhan rubs the sheen off entertainment world as he shows how gritty and grimy shooting a film can be. How stunt scenes are shot or the constraints of budget or how female leads are cast – fair and lovely. In the film, Shiva's wife Priya dies in the first 15 minutes and he is set on now falling in love with a girl who is "white like maida, and also happens to be a mental," for that is apparently the trend today.
How does Shiva come to a conclusion about pursuing a girl? He closes his eyes for a minute and the first girl he sees when he opens his eyes - Ramya, played by Ishwarya Menon - will be his future girlfriend. In the company of his friends, Shiva wonders, "Isn't it wrong to stalk a girl to make her like me?" His friends tell him that he is the hero and can do what he wants, including kidnapping the girl.
CS Amudhan also addresses the issue of actors in their 50s playing college students by casting Mano Bala and Santhana Bharathi as Shiva's friends. He pokes fun at makers sticking to formula, pay disparity in the industry and item songs.
Shiva is not the only one to steal the show, comedian Sathish plays the role of 'P' (which in Tamil translates to sh**). He is in a new get-up every time he appears. From acing the look of Akshay Kumar in 2.0 to mimicking Ajith in Mangatha, Sathish has done a fabulous job opposite Shiva. Especially, the dance-off between the two of them in a Game Of Thrones like setting is outrageously funny. The fact that actor Ishwarya Menon looks like Danaerys Targaryen and is named Khalasi, is the icing on the cake.
While the film is a laugh riot, it lacks the freshness Tamizh Padam had. It works as a sequel because the films and themes they have picked are relatable.However, lack of freshness can reduce this franchise to a formula too.
Follow @htshowbiz for more
ott:10:ht-entertainment_listing-desktop