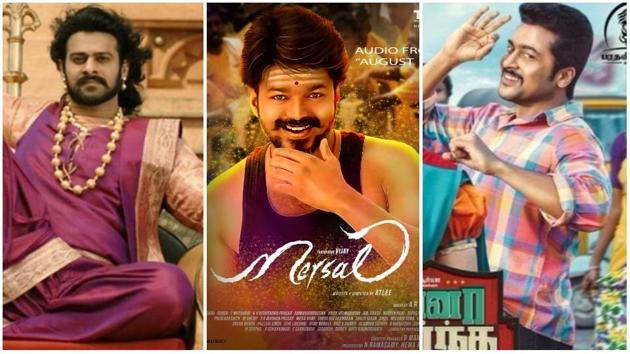 The mystery of box office numbers down south, and why it is such a touchy topic
Why are earnings such a hush-hush matter for these film industries? Some believe it is because the film industries down south are more akin to family businesses than corporate entities, where monetary dealings are not all that transparent.
UPDATED ON APR 01, 2018 12:30 PM IST
Box office numbers are a matter of pride for everyone linked to a film. The more the number of zeroes in your collection, the higher your stature gets in the industry and outside.
While we see production houses sharing BO numbers in Bollywood quite often, this is still not practised in the south film industries. An exception to the rule is the Telugu film industry, but this change is a recent one. To be specific, the trendsetter in this regard was Baahubali 2, which clocked over Rs 1500 crore as worldwide box office. The positive buzz surrounding the discussion of money matters by trade analysts and fans opened the industry to the possibility of discussing earnings. However, Tamil, Kannada and Malayalam industries still shy away from discussing their collections.
So, why are earnings such a hush-hush matter for these film industries? Some believe it is because the film industries down south are more akin to family businesses than corporate entities, where monetary dealings are not all that transparent.
Read | Rangasthalam movie review: Ram Charan, Samantha Akkineni film beats the formula
Prasanth Varma, the director of recent Telugu release Nani, said deals in black money makes people hesitate to share their monetary figures. "If producers deal with 80% white money, 20% remains outside their books. When any particular film has high earnings, this 20% makes it hard even for the producers themselves to know how much it made at the box office," the director said, adding that the only solution was to ensure transparency between producers, distributors and theatres. "This will take a few more years," he said.
Another director who debuted in 2017 said on the condition of anonymity that the Tamil industry still has some under-the-table dealings. "It is evident that they cannot pin down the profit without declaring the actual budget. That would inflate the value of any given project and the star who is a part of it."
Read | Ram Charan and Samantha Akkineni's Rangasthalam: 5 reasons why it is a must watch
There is also the other end of the bargain to consider. "If a big star's film only manages to break even and does not turn profitable, announcing the same will mean a decrease in his market value. If it was a huge director's film that fails, producers might not come forward to bankroll another project by him. One has to consider all of this," the director explained.
Vignesh Shivn, whose recent film Thaana Serndha Koottam recently celebrated 25 successful days at theaters, lost his temper on the social media when a trade tracker said the film did mediocre business at the box office. "A film's number game is only a producer's thing! Audience r here to enjoy, It's all just entertainment. Gone are the days when we used to enjoy every film! Every1 has become critical about everything! Not needed. It's a beautiful life & let's just try to be positive. #Ignorenegativity (sic)," he tweeted.
Actor-producer Siddharth mirrored this opinion in an interview, stating that he doesn't understand the audience's fascination with the KDM (Key Delivery Message - Electronic key to unlock encrypted films) of a film being locked, or why a movie has not released. "I am a Kamal fan and I have watched most number of films in theaters from when I was five, but I never discussed this side of the industry," he said.
When asked if higher collections are a reflection on the quality of a film, Siddharth said: "There is a pure audience of people who watch movies in theatres and tell us if they liked it or not. Anyone else who discusses numbers is nothing more than a myth. Sometimes it's about ego, sometimes it's about vanity. The important point here is to support good films – independent films. There is no connection between people who watch the film and how many crores of rupees it has made in collections. If someone says he will watch a movie twice because it has collected Rs 100 crore or so, then that is completely on you and not me (the producer)."
A veteran producer from the industry said on the condition of anonymity that box office numbers in the south are hard to come by because they directly hit the ego of the main lead in the film which, in turn, affects the relationship between the producer and the actor. He recounts an incident dating back to 2001, when Kamal Haasan-starrer Aalavandan (produced by Kalaipuli S Thanu) was released.
"After the film released and did not perform well at the box office, Thanu started pointing fingers at Kamal in interviews to the media and blamed the actor for not allowing him to sell the Hindi rights. Till this day the two do not see eye to eye. Their relationship is strained, and the two have been at loggerhead for 17 years. So much so that Kamal supported Vishal in the elections against Thanu."
Producer Dhananjayan Govind thinks there are two reasons why discussing box office numbers are taboo in the south. "Firstly, the south industry is still not transparent enough. There are personal transactions between the cast and crew. If the film of a leading star doesn't work under a banner, the star works with the same banner in the future and they balance initial losses. All this is possible because the industry is closely knit, and they do not want to strain relationships."
Govind said the numbers game doesn't take such a toll on Bollywood because of the corporate working style of production houses there. "That will not work in the south. The cast and crew are not going to be happy about keep everything cut and dried," he concluded.
Author tweets @Priyanka_S_MCC
Follow @htshowbiz for more

Close