Scientists are returning to India for research: Harsh Vardhan
May 23, 2017 08:26 PM IST
More than 1,000 Indian scientists abroad have come back through various fellowships, said Union minister for Science and Technology and Earth Sciences. India has become a viable research destination.
From brain drain, India has now reached a stage of brain gain, said Dr Harsh Vardhan Union minister for science and technology and earth sciences, while speaking about the three-year achievements of his ministries.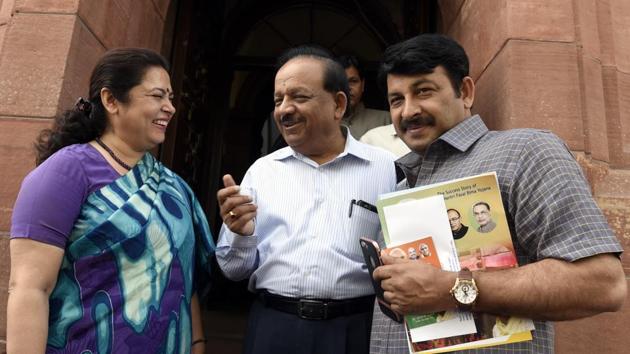 "More than a thousand scientists have come back to India on various scholarships and fellowships. And, these are people who have been selected by qualified, there are several others who do not get to come back. This shows that there is a global consensus that India is a becoming a destination for scientific research," said Harsh Vardhan.
India has become a viable research destination, according to the minister. "The Council of Scientific and Industrial Research (CSIR) was ranked 12th among government institutions in the world in 2016 in Scimago Institutions Rankings. We are sixth in the world in terms of research output, and third if you look at research published on nanotechnology," he said.
The scientists have returned to join across research fields through various scholarships and fellowships like VAJRA (Visiting Advanced Joint Research), according to the minister.
The VAJRA faculty scheme that was launched in January this year, was designed to attract distinguished overseas scientists and academicians, especially non-resident Indians, to contribute to the country's research and development.
Under the scheme, the academicians have to be in India for three months and for the rest of the year work as adjunct faculty and run collaborative labs and co-guide PhD students. A total of 1,000 such positions have been created by the ministry for the year 2017-18.
"Now, the scientific community feels that there is a vision, direction, atmosphere and even facility to conduct high-quality research in India," said Harsh Vardhan.
Apart from that, collaborative work with other countries, which open up world's best facilities to Indian scientists, has also contributed towards people coming back to India.
The government is also focussing on nurturing young minds and retaining them. The revamped MANAK (Million Minds Augmenting National Aspirations and Knowledge) scheme will focus on nurturing 10 lakh relevant original ideas from 5 lakh schools across the country. "We will stress on original idea. Previously, people have also presented models bought from shops," the minister said.
The early career research award to support researchers early on in their career for exciting and innovative research and the national post-doctoral fellowship scheme to encourage scientists to get into research right after PhD, both launched in 2015-16, will also attract and retain young scientists.