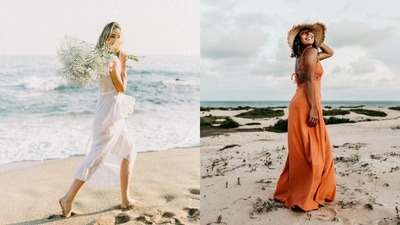 Beach dresses make for stylish and chic wear.
Beach vacations call for easy-breezy apparel with soothing prints and colours. From flowy maxi dresses, floral print sarongs, classy jumpsuits to laidback kaftan maxi dresses, there are plenty options one can choose from when packing a suitcase for a beach destination. Such dresses complement well with the vibe of the beach and allow women to feel absolutely at ease and in bliss. Fuss-free, classy and chic garments, they have a feel-good factor in them.
To help you with some options, we have rounded up some really beautiful dresses in our list below. Also, when it comes to accessories, you can throw in strands of bead necklaces, some really out-of-the box stack of bracelets, long drop earrings and stylish slides to round off the look in absolute style. So, what are you waiting for? Scroll through our list of trendy selections.
Sourbh Wrap Sarongs
This super sassy wrap sarong dress is a must-wear apparel when at the beach. It features a stunning floral print that will complement the vibe at the beach. Made from semi transparent faux georgette fabric, it dries quickly and is skin-friendly.
InTrend Forever Georgette Kaftan Maxi Dress
How can you not take a kaftan maxi dress when holidaying on a beach? To enjoy the vacay mode full on, you need dresses like this to feel at ease and absolutely comfortable. It is made of georgette fabric and features a bright, floral print.
Lymio Women Dress
This chic modern dress is made from premium quality polyester. All you need to round off the look in this dress is a dainty pair of earrings, a stack of bangles and a pair of strappy heels - and you'll be good to go. The material is also stretchy.
Jisora Cotton Night Dress Maxi Kaftan
This maxi kaftan night dress is made of 100% pure cotton fabric. It is lightweight and an easy-breezy apparel in which you will feel absolutely at home. The drawstrings in it will allow you to cinch your waist just as much as you'd like.
Treysta Georgette Maxi Dress
This long-sleeved maxi dress is made from georgette fabric. It has abundant flare and looks absolutely stylish. This floral print dress is just what you need to pack in suitcase to feel complete bliss on a beach vacation.
God Bless Khadi Striped Casual Women's Jump Suit
This casual jumpsuit for women features stripes. Available in a right green colour, it is just what you need to amp up your style effortlessly. Simple and minimalistic in design, it is a perfect apparel in which you'll feel completely at ease.
At Hindustan Times, we help you stay up-to-date with latest trends and products. Hindustan Times has affiliate partnership, so we may get a part of the revenue when you make a purchase.