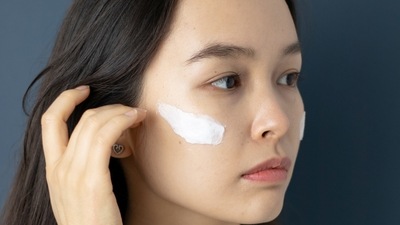 Take to face whitening creams to deal with age-related skin problems like dark spots, pigmentation and wrinkles.
By the time Indian women hit the 40s, their faces start to tell a totally different story as ageing sets in - dullness, dark circles, pigmentation, dark spots among others become their constant companions. Wrinkles and fine lines end up making our face look darker with very passing day. Ageing, air pollution and sustained exposure to sun can cause enough damage to the skin. Indian women are particularly susceptible to sun damage as they live in the tropical regions, where there is a higher prevalence of ultra violet rays. Irregular lifestyle and work-life imbalance also play a role in adding to stress.
Thankfully, not all is lost as there are many products in the market that can help in turning the tide. Take to skin whitening creams that come loaded with special ingredients that go a long way in tackling all kinds of skin woes and age-related issues. In case, you are keen we have shortlist a bunch of such creams that you will find useful. Check them out here.
WOW Skin Science Retinol Face Cream
This cream is particularly helpful in brightening complexion and rejuvenating tired and dry skin. It comes enriched with Retinyl Palmitate, Hyaluronic Acid, Aloe Vera, Shea and Cocoa butters and nourishing oils that help fade away pigmentation and fight signs of ageing brought on by free radicals. It also has vitamin A derivative, Moroccan Argan oil and Jojoba oil, all of which have skin protecting and anti-ageing qualities.
Spawake Brightening Night Cream
This cream comes enriched with the goodness of vitamin C and B3 and is suitable for all skin types. This is a skin brightening and nourishing cream. A blend of vitamin C and B3 along with Coral Grass extract instantly melts into the skin and provides eight hours of continuous moisture that keeps your skin plumped and radiant and negates the skin damage of the day during the night time. All these ingredients come together to prevent blemishes and dullness, and lead to brighter glowing skin.
O3+ Radiant Brightening & Whitening Day Face Cream
This cream counts brightening and even facial skin tone as its many benefits. It also works on reduction of dark spots and provides sun protection. It also helps moisturise the skin. All of these benefits result in brightening the skin as well making you look fairer. Dark spots and pigmentation can make you look darker and this cream helps counter the harmful effects of exposure to sun.
Youth Face Whitening Beauty Cream
Here's another good product which is meant especially to make you look fairer as it is comes loaded with skin whitening and brightening ingredients. It is an all-day usage cream which gives radiance and glow to the skin. It also aids in the process of moisturisation and nourishment. It makes you look fairer also because it removes acne and pimples marks, dark spots and freckles and refines your face.
Lakme Absolute Perfect Radiance Brightening Day Crème
This cream gives you a fresh and radiant glow everyday. It packs multiple benefits for the skin; it gives a fairer and illuminated look and brightens the skin tone. It provides sun protection and hence gives protection from ultra violet rays. Plus, it also moisturises and nourishes the skin.
Biotique Coconut Brightening Instant Glow Cream
This whitening cream can be useful for all skin types. It is formulated in a way to protect the inner skin against melanin. It also softens blemishes and helps fade away dark spots. This cream is prepared using extracts of pure virgin coconut, dandelion (works against acne) and manjishtha (improves skin complexion) that fight against dark spots and blemishes. Regular use can make your skin looking fairer, smoother and brighter. This cream can be used by men and women alike.
MRP: ₹199.00
Price: ₹129.00
This skin brightening and whitening night cream and Kumkumadi oil combo pack is an all-purpose product that tackles all age-related skin issues. It helps reduce fine lines, dark spots, dark circles and pigmentation, fights acne and aids in brightening the skin. This night cream leads to skin brightening by improving skin tone and working on discolouration. It is non oily and can be used by people of all skin types. It also helps hydrate the skin. It also gives a It boosts collagen production in the skin.
The Kumkumadi oil works on issues such as pigmentation, pimples, acne marks, dark circles, fine lines, wrinkles and tanning of skin. This oil also helps regenerate new skin cells, moisturizing it deeply to give a soft, smooth and firm look.
MRP: ₹2,000.00
Price: ₹749.00
This cream is specially designed to handle dark spots, uneven skin tone and pigmentation. It is meant to give you radiant skin. This face cream calms and relieves the skin, lightening the appearance of blemishes, dark spots, age spots, discolouration, hyper pigmentation and loss of skin flexibility. Its blend of key ingredients and antioxidants penetrate deeply into the skin and block darkening pigments from forming. It suits all skin types.
MRP: ₹399.00
Deal price: ₹329.00
This cream has been prepared in such a way that it provides deep nourishment while brightening the skin tone. As a day cream, this vitamin C-enriched face cream hydrates and nourishes the skin. It seeps within the topical skin layer and restores moisture throughout the day without feeling the need for consistent reapplication.
Vitamin C also brightens the face. This is because of the antioxidant properties of vitamin C that doesn't let 'free radicals' (harmful elements) dull down the skin tone. Vitamin C also promotes cell regeneration, leading to replacement of dead skin cells with fresh skin cells. This cream also promotes collagen production.
MRP: ₹695.00
Deal price: ₹629.00
This cream has been formulated to deal with dark spots and pigmentation. It contains Olive oil, orange extract, Wheat germ oil, glycerin and vitamin E. This whitening cream helps combat acne, fine lines and wrinkles and overall dull skin.
Price: ₹595.00
This cream is ideally suited for skin brightening and whitening purposes. It is formulated to tackle issues such as sunburn, lack of hydration and nourishment, redness, dark spots, acne, uneven skin tone, pores and pigmentation. This cream, which is infused with Apricot extract, helps in lightening the uneven skin tone and improves the radiance of the skin. It also aids in fading away of dark spots, giving you a bright and glowy skin. It also provides hydration to the skin, which then helps moisturize dry patches and prevent flaking. Oatmeal extracts help in tan removal.
MRP: ₹450.00
Price: ₹299.00
At Hindustan Times, we help you stay up-to-date with latest trends and products. Hindustan Times has affiliate partnership, so we may get a part of the revenue when you make a purchase.