Six from the moment it left the bat – Gionee's masterstroke with Virat Kohli
On "Green Tea with Gionee" - in conversation with comedian Manish Paul and Gionee India CEO Arvind Vohra - Virat proves he is a perfect fit for the Gionee family in more ways than one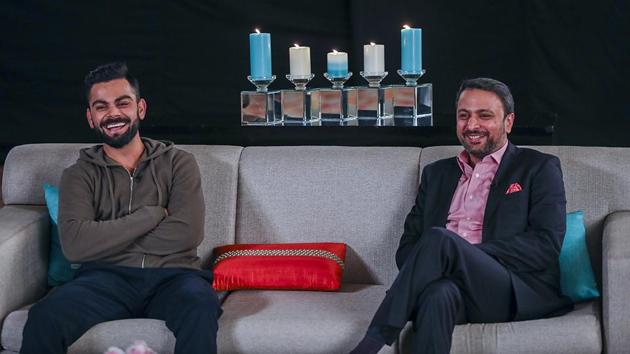 Updated on Feb 10, 2021 10:47 PM IST
Partnered Feature, HT Brand Studio
Power, innovation, endurance and the courage to take bold decisions. To beat stiff competition, you need a combination of all those and more! The smartphone business is something like that but Gionee has managed to make a huge splash in a short span. Over 1.25 crore people have embraced Gionee and to reach to many more, the company has turned to one of India's biggest icons.
Virat Kohli already faces a mammoth task on-field as the new India skipper. And off-field too, the master chaser takes on the challenge of being the new brand ambassador for Gionee.
There was no big press conference or run of the mill PR promotion by Gionee this time around. Being the quirky brand it is, Gionee instead used an awesome candid chat show with Virat to announce the tie-up on the digital platform. It's not every day that the brand ambassador is showcased in such a casual yet approachable way. This shows the perfect camaraderie between the brand and the brand ambassador.
On "Green Tea with Gionee" – (reminds us of another very popular chat show name, doesn't it?) - in conversation with comedian Manish Paul and Gionee India CEO Arvind Vohra, Virat proved he is a perfect fit for the Gionee family in more ways than one. Here are six (it's Virat, of course) that stand out immediately!
Makes work fun too
Virat is always ready to dish out business, just like your smartphone which is fast becoming the go-to prroductivity device for the new India. But when you want to party, Gionee has you covered with innovations like selfie flash or world-beating slim design. And as the video proves Virat too knows how to chill and unwind too – case in point, his selfies with sleeping teammates even before a big crucial match!
Keeps your secrets safe
The nation may want to know – or in this case Manish Paul - but don't expect Virat to spill the beans or reveal best-laid plans to beat the opposition! Virat is as secure as a vault. Come to think of it, it's a little like the fingerprint sensor that keeps your private data safe, but behind a quick touch. And his dedication to constantly keep his body fit reminds us of the always-improving Gionee stylish design.
Ready for the future
Great leaders have come and gone, and now it's time for Virat – or Gionee, if you will. They made a big entry with the world's slimmest phone and now with cool innovations for the selfie and the VR generation, they are ready for the young smartphone buyer. And if anyone can tap the pulse of young India, it's the dashing leader of Indian cricket's future.
Performs like a champ
The difference between good and great is the capacity to make lightning fast decisions, backed by power and endurance. And we know Virat can deliver - whether it is a boundary off the first ball in the pressure chase, or a change in bowling that brings the breakthrough!
Thank fully Gionee's own software i.e. Amigo can keep up with Virat, giving the boost just when needed, and thus ensuring that one is ready for any situation – yes, even when there's barely any light for those quintessential selfies.
Even rivals love him
Sometimes you are so good that even your opponents can't help but admire you. What else could explain Kolkata Knight Riders sponsor Gionee bringing Indian Premier League rival Royal Challengers Bengaluru's captain on board? And if Gionee keeps innovating and launching fresh new phones at its current pace, a few rivals will surely be tipping their hats.
Brings all-day power!
Whether it's whirlwind T20 matches, or outlasting world-class opponents over 5 days in gruelling Tests, Virat's ready for any situation. And isn't that what Gionee phones are known for? Quick operation under load and enough stamina to last the day! Endurance, super-awesome tricks, and lightning performance. Applies to both Virat and Gionee.
Watch the full "Green Tea with Gionee" video featuring Virat here.
Close Story
Personalise your news feed. Follow trending topics