There Goes The Neighbourhood: 4 stories that illustrate why 'kids will be kids'
Updated on May 05, 2017 03:58 PM IST
We asked several Indians to describe some of the most exasperating things their neighbourhood kids do while playing—and they were more than happy to vent. Here are some of the more hilarious responses.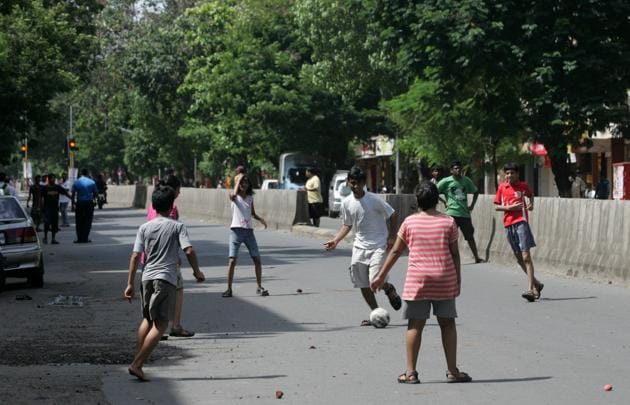 Promotional Feature, HT Brand Studio
Indians are generally known to be house-proud. The past decade has seen more and more people invest time and money in ensuring that their homes are desirable, from the inside as well as the outside. There is also a rise in experimental trends that combine design with smart technology, to beautify homes while making them highly functional. Living spaces are becoming lifestyle statements, not just for the elite and ultra-rich, but the flourishing urban middle class as well.
However, old habits die hard. And kids will always be kids. India is full of quirky street games, century-old festivals, and many acceptable yet annoying social habits that make our lives eventful, but also a little exasperating. Be it smashed windows, dirty wall patterns created by a million football strikes, or colossal damages to the house on Holi and Diwali, we've all been there.
So, when we asked folks from across the country to share their experiences, they happily came forth with their stories.
"Happy to vent", as some of them said.
Who needs a squash court when there are walls everywhere?
The exterior walls of our house require painting every year. Yes, it is expensive and an inconvenience but I don't have a choice. You see, it's about the kids. But not mine. When I bought my house in Gurgaon post retirement, I considered it a stroke of luck. The plot next door was not just empty, it was naturally landscaped with beautiful lush greens. But my joy was short-lived. The walls of my house facing the plot serve as a perfect space to play squash, handball, some strange invented games, and now recently a massive canvas for graffiti. Not to mention the chaos and noise that accompanies all the merriment. I could (and perhaps should) attempt to put an end to it. As an old retired man, being grumpy is my birthright. But as I said, 'It's for the kids'. I have three who have two each of their own, my 7 glorious grandchildren. And their visits make it all worthwhile. I have however invested in smart paint on my external walls that can withstand a lot more, without making me the grumpy old neighbourhood uncle.
Sanjeev Mehta is a retired chartered accountant based out of DLF Phase III, Gurugram
A stray football and a chain of tragedies
All of 72 years, I have been a football fanatic. In the old days, I have won many awards and accolades in local football tournaments, and these days I diligently watch the English Premier League and support Atletico Kolkata in the Indian Super League. However, all that fanaticism gets lost in the dark recesses of my brain every evening when the neighbourhood boys bring out their football and set about their rampage. Bheeshon antabdi khelta hai (They play in a very unruly manner). Every day, they kick the ball in the direction of my gate. Naturally ... because my gate is their bloody goal! And every day, their star striker keeps banging the ball on my car. Now I'm ageing, my hearing is also receding. But you can't say the same for Mr Baggio here, na? He is my pet chihuahua, named after the legend from Italy, Roberto Baggio. He has a very shrill bark, baba re! Every time the ball hits the car, the alarm goes off! And then Mr Baggio promptly starts barking! Kai-kai-kai! He doesn't stop! And that leads to a domino effect, because once Mr Baggio barks, Mrs Ganguly doesn't stop complaining! That makes me very angry. The tamasha ends only after switching off the car alarm. I have given up now; I can't stop the kids, so this weekend I have decided to disable the car alarm only.
Debojit Ganguly is a Kolkata-based septuagenarian, who retired as general manager in the finance department of one of the country's largest steelmakers.
The Holi mess
Oh my God, don't get me started. This happens every year in our society! In the week leading up to Holi, it's impossible to walk around or inside the colony without being attacked. Kids from all the wings gang up together, find a suitable terrace facing enough open windows, and simply go crazy with water balloons, pistols, and what not. You cannot avoid them—their aim is near-perfect. This year, I was completely soaked on my way to work thanks to this gang. My neighbour, poor thing, had colour balloons aimed straight inside her house—knocking over her vase and staining her walls. They're really good at disappearing too! You can never catch them in the act, but the next time you see them, they'll all go "Hello aunty," with angelic smiles.
Kavya Punwani is a marketing professional based out of Sun n Sea Society in Versova, Mumbai.
Record-breaking performance
I live alone in a society populated with families and children. My work hours are long, and I rarely get to interact much with other residents. I do know, however, that the little overgrown patch in my backyard happens to be a favourite among the society children, especially the cricket players. Ever so often I have returned home to see muddy stains on my doors, windows, and walls – a result of the many 'boundaries' of the day. One weekend I was home and talking a nap, when an overambitious shot went straight through my bedroom window. My sleep was shattered, as was the glass. Enraged and livid, I stormed outside—deciding that podhum podhum! (Enough is enough). But when I stepped out, all 7-8 of the boys were standing with their heads bowed low. The oldest among them, all of 8 years, apologized profusely, while one of them even offered his muddy shirt as a temporary curtain. It was hard to shout at them after that, though I did let them off with a somewhat stern warning. Not that it has stopped them from playing, but last weekend they even let me bowl a few times when their star bowler was out of commission.
Purandardasa Balasubramanian works in the Tamil Nadu state excise department. He is based out of Kodambakkam, Chennai.
While it is hard to come across solutions for broken window panes and letter boxes, it is now possible to protect your house with Nerolac Excel Mica Marble paint. The paint from the trusted house of Nerolac offers excellent water resistance, low dust pick up, and can withstand extreme weather temperatures.
(Names have been changed on request)
(This content was created by HT Brand Studio and not the editorial team)