From a village boy to highest earner in HIL auction, Akashdeep surprises all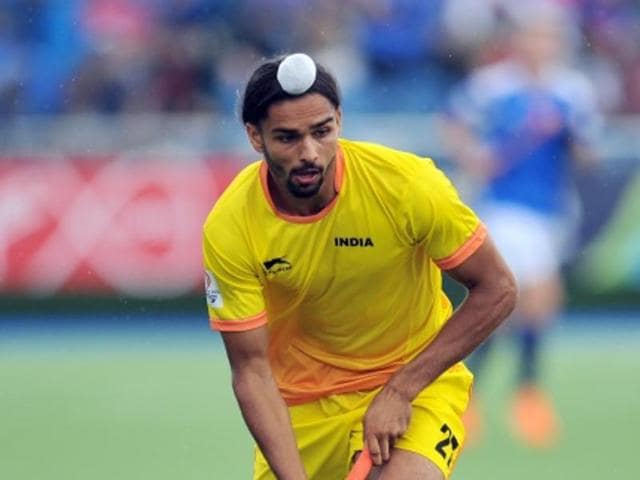 Updated on Sep 24, 2015 11:45 PM IST
He left everyone surprised when he bagged the highest bid for an Indian player at the auction of Hockey India League held in Delhi last week. Akashdeep Singh was snapped up for $84,000 by UP Wizards, outdoing even the Indian hockey captain Sardar Singh, who was eventually picked up by Punjab Warriors for just $58,000.
Born in the remote Verowal village, 7 km from Khadur Sahib, he has become a celebrity not only in the region, but throughout the country. The young striker started his hockey career at Khadur Sahib-based Baba Gurmukh Singh Baba Uttam Singh Senior Secondary School, which is run by noted environmentalist Baba Sewa Singh.
Besides playing in the school team, he also played for Guru Angad Dev Sports Club, Khadur Sahib, at initial stage. Thereafter, he went to PAU Hockey Academy, Ludhiana in 2006 for further coaching. He then joined the Surjit Hockey academy in Jalandhar to hone his skills further and remained there for four years.
Notably, his brother Prabhdeep Singh is also a hockey player, who has represented India, while his father Surinder Pal Singh is working as inspector in Punjab Police.
Akashdeep, who is part of the national camp under progress in New Delhi, said he had no word to express his pleasure. "The credit goes to my parents, my coaches and my brothers, who have always encouraged me to achieve my goal in hockey," he said to HT over phone.
"Although, I have turned out to be most expensive hockey player of the country, but it's not only about the money. It is the sports and my country which matter the most to me," said the young striker, who was selected as captain of the junior national hockey team of India in 2011.
Concerned over the prevalence of drugs among youth from his region, Akashdeep said, "Drug menace is biggest concern of our region. Instead of believing in our cultural values, which teach us to play games in order to keep our body fit and powerful, youth indulge in drugs, which is bad. Sports is one way to curb this menace and the government should promote it on priority"
Meanwhile, Gurdial Singh Gill, director-principal of the school where he took his first hockey lesson, said Akashdeep Singh studied in the school from Class I to Class VI. "He started playing from Class IV on hockey ground of the school under coach Balkar Singh."
Balkar Singh said it was matter of honour for him that his trainee has achieved such a height in the game. "He was outstanding even during his school days. He was a star material," he added.
Achievements
· Selected as captain of junior national hockey team of India in 2011
· Won bronze medal in Asia Cup (Junior) held in Malaysia in 2011.
· Played junior world cup held at New Delhi in 2012
· Selected in national team (senior) in 2013
· Played senior world cup held in Holland in 2014
· Won gold medal in Asian games held in Korea in 2014.
· Won silver medal in commonwealth games held in Scotland in 2014.
· Played Olympic qualifying league
Close Story
Personalise your news feed. Follow trending topics