The Bollettieri revolution and the spark it lit in India
Jan 01, 2023 07:50 PM IST
The Amritrajs launched a first for India in 1985 with their tennis academy in Chennai modelled on the path-breaking Florida model
In 1977, Jimmy Arias, the former world No 5, had the option of going to Spain as USA's U-14 national champion eager to further hone his tennis skills and spread the wings of promise. Instead, the then 13-year-old from Buffalo, New York, chose a spot closer to home and the beach.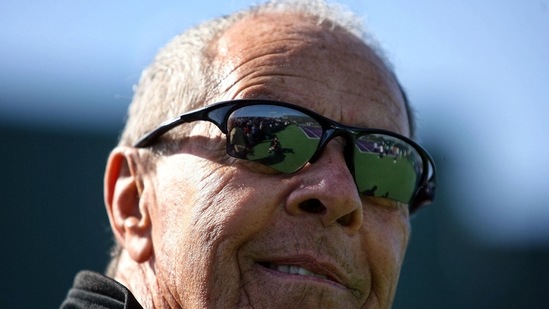 Arias headed to Longboat Key, a waterside town along the central west coast of Florida where the late coach Nick Bollettieri resided. Bollettieri was no coaching institution then. All he had was access to the town's few courts, a handful of American juniors to train and some space in his house to accommodate his most accomplished kid yet.
Today, that kid is the director of tennis in a sporting establishment spread across 600 acres brimming with thousands of young trainees, courtesy a pioneering concept known as the Nick Bollettieri Tennis Academy (NBTA), now the IMG Academy.
After the 91-year-old Bollettieri died in early December, Arias touched upon "Nick's influence" as a "launching pad" for not just shaping the careers of champions but scripting an entirely new coaching manual that would become the template around the globe.
A year after Arias parked himself in the revolutionary coach's home, Bollettieri found a 40-acre space, a $1 million loan from his friend and contributions from a few others to lay the foundation of the NBTA in 1978.
"I told several families I was opening a school in Sarasota, offering room and board and tennis. I lined up 20 children," Bollettieri said in an interview.
He would go on to line up 10 world No 1s and multiple top-100 pros from that centre in Florida, which was the first to provide full-time, live-in tennis coaching alongside academic curriculum for kids.
Arias, the 1983 US Open singles semi-finalist at 19, was one of the early success stories of the academy before the likes of Andre Agassi and Jim Courier checked in as juniors.
Boris Becker would also become among the early bird No 1s, a list that swelled as word spread about the academy: Monica Seles, Martina Hingis, Marcelo Rios, Jelena Jankovic, Maria Sharapova and the Williams sisters, Serena and Venus, all worked with Bollettieri.
Equally important were countless others who made the academy their home while rubbing shoulders with the crème de la crème, imbibing tennis skills as well as values of life in the environment created by the former paratrooper.
"Nick flattened the tennis world in a very Darwinian way," four-time singles Grand Slam champion Courier told ESPN in 2014. "He put together an ecosystem of the world's greatest juniors and sprinkled in some pros as well. He created an industry."
One that became the blueprint for tennis academies worldwide. The Rafa Nadal Academy and the Mouratoglou Tennis Academy, two of the most prominent modern-day tennis coaching institutions in the world, are modelled on the NBTA, offering boarding and schooling on campus.
Modelled in India
So was, to a certain extent, an academy launched in India in 1985—the Britannia Amritraj Tennis (BAT) foundation in Chennai.
"We used to see Nick quite a bit on the circuit. We knew Andre (Agassi) very well, and we knew what Nick had been doing for close to 20 years," Anand Amritraj, the former world No. 74 and one of the brains behind the BAT concept with brother Vijay and mother Maggie, said on phone from Los Angeles.
"He basically invented this whole live-in academy system. After Nick set up his thing in Florida, we sort of copied it, although not exactly. But our BAT was certainly modelled on that."
The objective of BAT though was different to the factory Bollettieri's academy had turned into by then (in 1987, it was sold to IMG while Bollettieri continued to be at the helm of coaching). With the idea of finding and grooming the next set of Davis Cup players from India, the Amritrajs set up the academy in a school premises, selecting eight boys in the first batch and sticking to that number for years.
Anand had a key role in that scouting system. "Our first pick was Rohit Rajpal (current Davis Cup captain). We tried to pick boys between 11 and 14. In 1986, my first pick was Leander (Paes)," he said of the academy that also gave Indian tennis the likes of Gaurav Natekar and Somdev Devvarman.
On an average, the academy would change two boys every year, keeping the other six intact. That's where BAT overlapped with NBTA in concept and creation, being "the first of its kind in Asia with live-in facilities", as Vijay, the former world No. 18, would say.
From courts for training to coaching, from stay to travel for tournaments, from food to education, everything was taken care of. It was no short-term commitment—Rajpal and Paes stayed there for four years, Natekar for five. While Vijay and Anand set up shop and brought in sponsorship, Maggie, the driving force behind her sons' tennis careers, "ran the whole thing" with a personal touch. The sole interest, like that of Bollettieri, was to produce top-class pros.
"She treated those eight boys like she treated us," Anand said. "We picked the top eight kids, brought them to Chennai and gave them the best possible support in tennis and education. We had two American coaches who came over. The kids went to the best school in Madras. We set up an apartment where the boys stayed in four rooms. Their food, nutrition, domestic and international travel for tournaments, everything was looked after.
"In India, it was by far the most successful system that gave India future Davis Cup stars. That was the idea behind it, and Nick's academy the blueprint."
After running that system for close to two decades, BAT wound up in 2003. Finances increasingly became a struggle after Britannia's sponsorship ended. Therein lies the sustainability hurdle for a concept like this, which Bollettieri managed to navigate for decades with IMG help.
"Finances, and you've got to have someone as involved as my mother and for whom the only interest was to produce top-class tennis players," Anand said of the challenges for academies like BAT running the long race. "Unless you have all those pieces together, it's not going to happen."
It has not happened in India since. "Something like this (top-class live-in academy) would make a big difference (to Indian tennis)," Anand said. "But many pieces have to fall in place for that."
And that is the toughest part of the groundbreaking tennis coaching system Bollettieri so seamlessly created the path for.
"It's not an easy thing to replicate," Anand said.
Enjoy unlimited digital access with HT Premium
Subscribe Now to continue reading