Ahmed Patel's name has emerged in an affidavit submitted by the SIT in court against activist Teesta Salvad.

Published on Jul 17, 2022 11:14 AM IST
As a Gujarat SIT claimed late Congress leader Ahmed Patel paid Teesta Setalvad
₹
30 lakh to destabilise the then state government in 2002, filmmaker Vivek Agnihotri said someday it will be revealed why Bollywood was part of anti-CAA and farmers' protest.

Published on Jul 17, 2022 08:39 AM IST
The Congress described the charges labelled against the late politician as part of Prime Minister Narendra Modi's "systematic strategy to absolve himself of any responsibility for communal carnage" unleashed during his term as chief minister of Gujarat.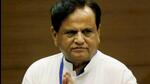 Updated on Jul 17, 2022 05:03 AM IST
Mumtaz Patel, in a tweet, questioned the ruling BJP government on why the charges over the 2002 Gujarat riots involving Congress veteran Ahmed Patel were not brought up till 2020 when he was still alive.

Published on Jul 16, 2022 03:03 PM IST
The Congress said the allegation that Teesta Setalvad received
₹
30 lakh from Ahmed Patel to destabilise the then Gujarat government is part of the prime minister's strategy to 'absolve himself of any responsibility for the communal carnage' of 2002.

Published on Jul 16, 2022 11:08 AM IST