Latest from ghulam nabi azad
Ghulam Nabi Azad's comments come amid ongoing talks on assembly elections in Jammu and Kashmir.

The meeting assumes importance as Sharma's current term in the Rajya Sabha is coming to an end, though Congress leaders categorically denied that Sharma's continuation in the Upper House was discussed at the meeting.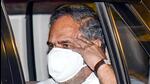 The movie, written and directed by Vivek Agnihotri and produced by Zee Studios, has triggered a political furore.

Mallikarjun Kharge said Ghulam Nabi Azad in with the party for years and knows everything. His meeting with Sonia Gandhi for strengthening the party is a welcome move, he said.

At his meeting with Sonia Gandhi, senior Congress leader Ghulam Nabi Azad said they also discussed how to prepare for the upcoming elections and how the Congress can put up a united fight.