Latest from Income Tax Department
Unaccounted income amounting to ₹150 crore and ₹40 crore, respectively, was detected, a statement from the Ministry of Finance read.


Published on Oct 26, 2021 06:38 PM IST
Income Tax department recruitment: Apply for Assistant, Stenographer Grade-II, and Multi Tasking Staff.

Published on Oct 06, 2021 02:02 PM IST
The raid, which began on September 28, is still underway, the Central Board of Direct Taxes (CBDT) noted.

Published on Oct 02, 2021 12:46 PM IST
Meeting the objectives of the taxpayers' charter, the I-T department has adopted technology-driven faceless schemes to make tax administration transparent and to end overreach by officials.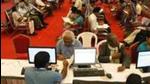 Updated on Aug 08, 2021 03:47 AM IST
"Written representations are invited regarding the issues/glitches on the new Income Tax Portal on the email address fmo@nic.in latest by 7 PM on Friday, June 18, 2021," Nirmala Sitharaman's office tweeted.

Updated on Jun 16, 2021 09:28 PM IST