Former Japanese Prime Minister Shinzo Abe made it clear that a Taiwan contingency is a Japan contingency as the westernmost island of Yonaguni is mere 110 km from Taiwan's main island.

The Centre had instituted the annual Prabandhan Puraskar to honour the contribution rendered by individuals and organisations in the field of disaster management.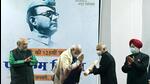 Just as China has deployed over 82 intermediate range missile launchers towards Taiwan and Guam, it has deployed long range missiles in Tibet to pressurize India and Bhutan.

Abe stepped down from office last year due to health reasons, and his replacement as prime minister, Yoshihide Suga, is expected to attend. Abe's office could not immediately be reached on Thursday, a public holiday in Japan.

PM Narendra Modi and the then Japanese PM Abe conceived the centre during their visit to the holy city in December 2015