The BJP MP, Parvesh Verma, who poured water at the Yamuna ghat, wanted to know why the Delhi government was stopping Chhath devotees to celebrate the festival at the bank.


Updated on Nov 10, 2021 01:21 PM IST
An official said the Delhi government put 15 boats to work to remove the foam that was forming in the Yamuna due to rising pollution.


Updated on Nov 10, 2021 11:33 AM IST
He said gallons of wastewater from the Yamuna in Haryana and the Ganga in Uttar Pradesh merged into Okhla Barrage and this water had industrial waste, untreated detergents and ammonia that led to formation of the dirty frothing.


Updated on Nov 09, 2021 12:22 PM IST
Poisoned by tonnes of sewage, industrial and domestic effluents, the Yamuna in Delhi is frothing - one of the signs of the exceptionally high levels of pollution in the river.


Updated on Nov 09, 2021 02:34 PM IST
According to a report by a monitoring committee appointed by the National Green Tribunal in 2018, the 22-km stretch of the Yamuna between Wazirabad and Okhla, accounts for 76% of the total pollution in the river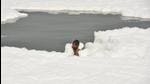 Updated on Nov 09, 2021 02:15 AM IST
By
Paras Singh
,
Jasjeev Gandhiok
, Hindustan Times, New Delhi