Latest from yogi adityanath
Prime Minister Narendra Modi on Monday night met with Uttar Pradesh chief minister Yogi Adityanath and his council of ministers, with a focus on governance and people-connect, people aware of the matter said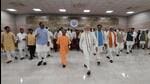 The former chief minister also questioned the credibility of those who appointed Goel to the top post. A 1987-batch IPS officer of the Uttar Pradesh cadre, Goel had been the DGP for a little over 11 months and is due to retire in February 2024.

Written by Ishika Yadav | Edited by Aryan Prakash
The Bharatiya Janata Party's (BJP) MP unit president Vishnu Dutt Sharma said the national anthem should be recited at all educational institutions across the country.

Written by Sharangee Dutta | Edited by Sohini Goswami
, New Delhi
All India Majlis-e-Ittehadul Muslimeen (AIMIM) president Asaduddin Owaisi told said that chief minister Yogi Adiytanath and the Bharatiya Janata Party (BJP) looked at madrassas with suspicion and that's why they were making such laws.

Written by Harshit Sabarwal | Edited by Aniruddha Dhar
, New Delhi
District minority welfare officers will have to monitor regularly to ensure compliance with the order.