Like a boss: This Pune-based Iranian woman is biking her way through all 7 continents
Updated on Oct 26, 2017 10:33 AM IST
Iran's Maral Yazarloo is on a mission: Riding for over 100,000km through 45 countries in 7 continents on her 800cc BMW GS. If including Antarctica in her itinerary wasn't enough, Yazarloo also plans to enter Iran on her bike — even though women in Iran are not allowed to ride motorcycles.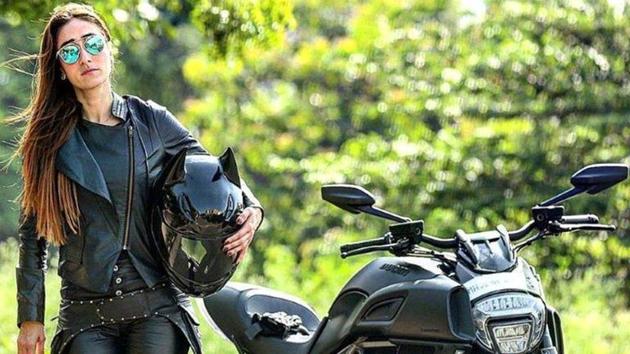 When Dr Maral Yazarloo (35) is cruising along on her superbike — a 800 cc BMW GS that weighs 370 kg — passers-by don't give her a second glance. It's only when she takes a pit stop that the reactions begin: It's a woman, they realise with disbelief and shock. People then notice that the bike has butterflies and toys hanging on it. At this point, onlookers get pretty excited. If they don't speak English, they gesture with their arms to imply Yazarloo is strong. Other women often hug her warmly.
Yazarloo is no stranger to this scenario – she's been riding for six years now. An Iranian by birth, she moved to Pune 15 years ago. Now, she's on a mission to cover 45 countries in seven continents, and traverse over 100,000 km, on her bike. All in 18 months. Joining her is fellow rider Pankaj Trivedi (42), a photographer and documentary maker. The duo has daringly chosen not to travel with any backup vehicle or support team.
She's riding across the world to change the stereotype of women, and in particular, Middle Eastern women. It's the fear of the unknown that gives her a thrill and keeps her going. Yazarloo and Trivedi kicked off their mission, Ride to be One, on March 15. So far, they have finished the first leg of their journey (crossing Myanmar, Thailand, and Australia).
"We dealt with bike break downs and extreme weathers. I can't say it was easy but I definitely can say it's possible and it's wonderful. What makes it all the more special is that we have not made any travel arrangements in advance (except in Antarctica), so we're taking each day as it comes. We're relying on faith - that everything will happen for the best," Yazarloo says.
The duo is currently in Peru, on the second leg of the journey (which included crossing Canada, USA and Mexico). They will soon enter the third leg of their journey (South Africa, Sudan, Egypt) and then move on to the fourth leg (Greece, Turkey, Russia, China, and back to India).
Pushing the envelope
"I started riding after I moved to India. Until then, I didn't know anything about it since Iranian women are not allowed to ride a motorcycle," she says. Earlier this year, there were reports of two women being arrested after they were filmed riding a motorbike in Iran. Last year, Iran's supreme leader, Ayatollah Ali Khamenei, even issued a fatwa against women riding bicycles.
"As part of Ride to be One, I plan to enter Iran on my bike and request the country's leaders to rethink the rules as riding is not against any religion or social rules," Yazarloo says. She may sound like a revolutionary, but she's quick to clarify: "There's no fight against the government and I'm not a rebel. It is only a request and I'll be there to answer any questions they might have about the matter. I'm positive about it, and hopefully, we'll soon have Iranian ladies riding motorbikes."
On the road
As part of her global tour, Yazarloo will also ride through snow and ice in Antarctica, and spend a month in a boat there – a feat not many have been able to accomplish. "In the past, two women bikers did manage a trip to Antarctica but on small bikes. We are on much bigger and heavier bikes, which makes it a lot more challenging," she says. To accommodate the huge bikes, Yazarloo and Trivedi have booked a 50ft sailing boat. "Also, we are preparing ourselves every day to face the weather," she adds.
All along the journey, Mazarloo and Trivedi have encountered various challenges related to the weather and terrain. But explaining the concept of vegetarian food (Trivedi does not eat meat) to restaurant chefs who have never heard of it was also a task. "Language is a big barrier, but so far we have managed to get at least cheese, bread and noodles. Laos proved to be the toughest country in that regard till now," the biker says.
It's not just Yazarloo's travel plans that are unconventional. Her professional life too has been varied. She holds an MBA and PhD in marketing, and is the head of retail and marketing at Panchshil Reality since 11 years. In 2012, she launched a fashion brand named Ma/Ya, which offers everything from bridal couture to kids wear. On the current world tour, she is keen to explore fabrics in different countries.
"I'm studying traditional textures, fabrics, and the story behind them. As a designer, I think it's important to know what we are wearing. So far, I have been particularly impressed by the silk and lotus fabric factories in Myanmar," Yazarloo says. Upon her return, she plans to hold fashion shows that are inspired by the textiles she learnt about.
Follow @htlifeandstyle for more