Cat comes face to face with food puzzle. Watch video to see if it aces the game
The video, shared on Instagram, shows the cat named Coby taking part in the food puzzle.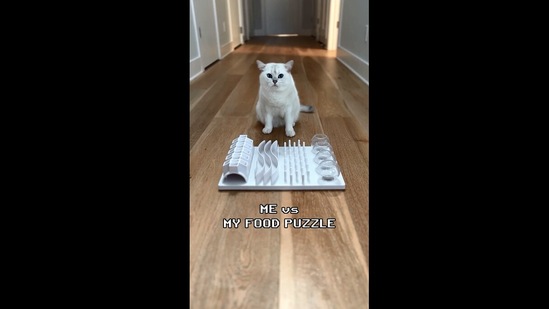 Published on Dec 03, 2021 10:31 AM IST
Looking for a video that may brighten up your day? Then here is a clip showcasing a cat taking up a food challenge. It is fun to see the feline going through the different stages in the game. However, does it end up winning the game? For that, you will have to watch this video that showcases the skills of the cat named Coby.
The video is shared on the official Instagram page of the feline with the caption "It's-a-me, the undefeated food puzzle champion."
We won't give away too much, so take a look at the video that you may love watching:
The clip has been posted three days ago. Since being shared, the post has accumulated more than 48,000 likes and counting. The share has also accumulated tons of comments from people.
"The way he's looking for his food: 'I thought that the food was here, why did it disappear?'," wrote an Instagram user. "So clever Coby, what a great cat you are!" commented another. "Great job Coby! You nailed it," praised a third.
What are your thoughts on the video of the cute cat?
Close Story