Cute doggo carries the most random things in its mouth from one room to another
In this video posted on Reddit, a tiny dog called Lloyd has its fair share of fun as it carries things from one room to the other for no apparent reason.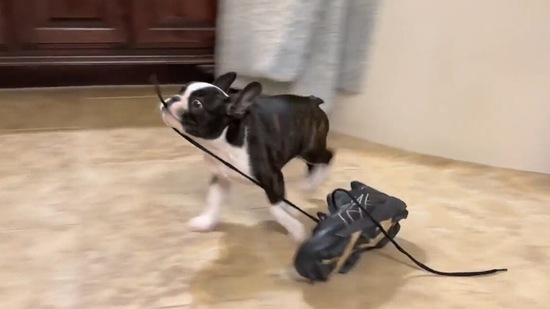 Published on Dec 02, 2021 04:41 PM IST
Most pet dogs usually like to bring random things to their humans. But this little dog, whose video was posted on Reddit, is quite different from the rest. This adorably mischievous doggo likes to run away with random things from its human's stock instead.
"Lloyd is a brazen and unapologetic thief," reads the caption that accompanies this cute dog video. In it, viewers can see that the dog keeps running from one room to another with the most random things in its mouth. These things range from anything between a long, red ribbon, to a cap to a backpack to even a gift bow. Then comes a hanger, a lone shoe, a grocery bag and the list goes on. By the end, it hops into its human's lap and calls it a day.
Watch this overjoyed doggo run around right here:
Posted some 19 hours ago, on the subReddit r/AnimalsBeingDerps, this video has raked in more than 5,800 upvotes and several reactions from dog lovers around the world.
"Yeah actually he's running an eBay store out of your back bedroom and you're the last to find out!", suggests a Redditor. "Such a little workaholic," commented another. "Lloyd has done nothing wrong, this is slander!", joked a third.
What do you think after watching this dog video?
Close Story
Personalise your news feed. Follow trending topics