What to do when you are about to leave home but your cat meows? This man shows. Watch
Published on Jun 28, 2022 09:46 AM IST
The video of the man showing what to do when your cat meows when you are about to leave the house was posted on Instagram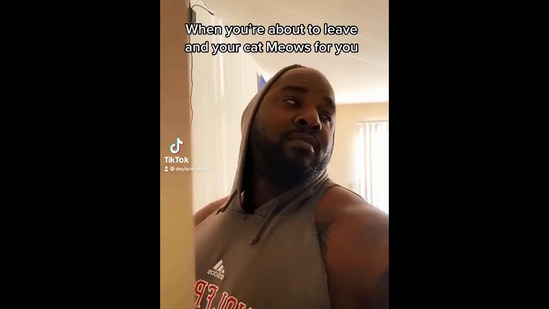 Cats not only rule hearts of people but they rule the Internet too. Probably, that is the reason this video involving a cat and its human has now gone viral online. In the video a person shows how it is impossible not to answer when your cat meows for you – even if you are ready to go out of your house.
The video was originally posted by Instagram user Deylan Buntyn. "We've all done this," he wrote while posting the video back in April. The clip, however, captured people's attention after being recently re-shared by an Instagram page. They used the same caption as the original poster while re-posting the video.
The clip opens to show a man about to go out of a door. However, soon he hears his cat meowing. Instantly, he stops and goes to his fur baby to cuddle it. Text insert on the video also explains, "When you're about to leave and your car meows for you."
Take a look at the video:
The video has been posted two days ago. Since being shared, the clip has gone viral. Till now, it has accumulated over 2.1 one million views and the numbers are only increasing. The share has also prompted people to post various comments. They were also some who could relate to the video.
"That would definitely sum up why I'm late for work," posted an Instagram user. "The best cat dad," shared another. "Relatable," commented a third. "Awww so cute," expressed a fourth. "I love this!," wrote a fifth. What would you share about the cat video?
Personalise your news feed. Follow trending topics