Woman's reunion with younger brother after 20 years leaves netizens teary-eyed
Published on Aug 09, 2022 09:30 AM IST
The video that documents an emotional reunion of two siblings is bound to tug at your heartstrings.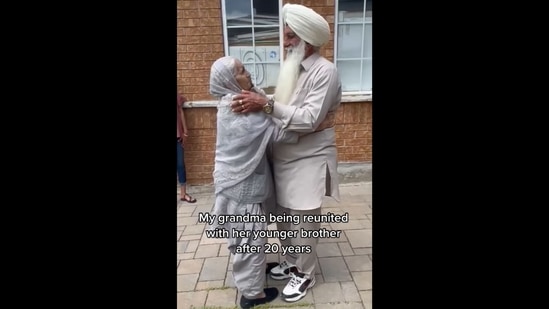 Netizens witnessed an emotional reunion when a video of two siblings meeting after 20 years surfaced online. "My grandma being reunited with her younger brother after 20 years," reads a text insert on the video. The video perfectly captures the siblings' bond and is bound to tug at your heartstrings. There are chances that the video may leave you teary-eyed.
The emotional reunion video was posted on Instagram by a page that goes by the username sikhexpo. The page has over 6.6 lakh dedicated followers who look forward to the shares that support Punjab and the diaspora. The video has been credited to Instagram user Gurpreet Singh Dhaliwal.
The video opens to show an elderly Sikh man, sporting Kurta-pajama and a turban, standing on his porch as he waits to meet his elder sister after 20 years. As the video progresses, an elderly woman is seen taking small steps towards her brother while holding a woman's hand. Towards the end, the duo can be seen hugging and conversing. The elderly man even fixed his sister's chunni.
Watch the emotional reunion video below:
Since being shared a day ago, the video has garnered over 4.6 lakh views. It has also amassed more tha 66,000 likes. Many emotional users also took to the comments section to share their thoughts.
"This is the content I wanna see everyday," posted an individual. Another pointed out how the younger brother fixed her sister's chunni. She wrote, "The chunni fix." "What a moment!" commented a third with heart emoticons.
An Instagram user expressed how she felt after watching the video. "The most beautiful thing I have ever seen on Internet. " "Such a beautiful moment," shared another individual.
Topics