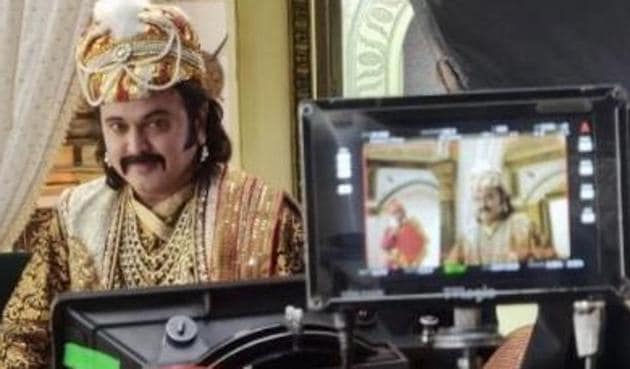 Ali Asgar on taking a pay cut: 'We have to adjust, we have to start from somewhere'
Talking about how pay cuts are necessary as businesses reopen after shutdown, actor Ali Asgar called it a domino effect as channels are also not getting ads.
PUBLISHED ON AUG 29, 2020 03:48 PM IST
Actor Ali Asgar, who will soon be seen as Emperor Akbar in Akbar Ka Bal Birbal, has opened up on taking a pay cut. The ongoing coronavirus pandemic has adversely affected all businesses, including the showbiz. As shoots began to resume late June, after government issued guidelines, the industry has been abuzz about people taking pay cuts.
Ali told Times of India in an interview, "By the grace of God shooting has resumed and once the pandemic end everything will be back to normal. Things will start fresh. I also want to add I can't get selfish at this point of time. I can't keep thinking about myself, I have to think about others also. With shooting resuming a lot of people are back on work a single TV show set has close to 30-40 people. They are spot dadas, light men, technicians who are getting payment because shooting has started. They were at maximum loss when the shooting was not happening. This is the bitter truth. We have to adjust, we have to start from somewhere."
Elaborating on why the pay cuts may be required, Ali added, "Economy has been hit globally, it is not like it is happening in only one part of the country. All the countries around the world are coping up with the issue. Every industry, factory, corporate has been hit and affected by the pandemic. These are all inter-related. When companies don't generate money, there will be budget constraints in marketing and advertising, TV channels will get less revenue on ads, they will not be able to pay like before to the production house, when the production house will have not enough money how will they pay their actors and technicians. They also have to make the product look good. So, they are asking us to adjust."
+ +
Ali will soon be seen in Akbar Ka Bal Birbal as Akbar. He recently said that he always wanted to play the character, "I always wanted this character in my resume. the show reveals how the Mughal emperor was scared of his wife and had a lazy child. He was an able administrator but helpless at home and how he and Birbal dealt with it, with humour as their only weapon."
Also read: Sanjana Sanghi responds to Rhea Chakraborty's comments on why she delayed clearing up Sushant's name in MeToo case: 'Cannot entertain this right now'
As he got back to work, he talked to Hindustan Times about the new normal amid the pandemic. He said earlier this month, "My first day of shoot was very difficult. I was scared to use the washroom as I wasn't sure about the water. I was sanitising everything I touched and was going crazy doing it. Being at home and sanitising stuff at home is different from being with people. My kids make fun of me as I sanitise everything."
Follow @htshowbiz for more
Close