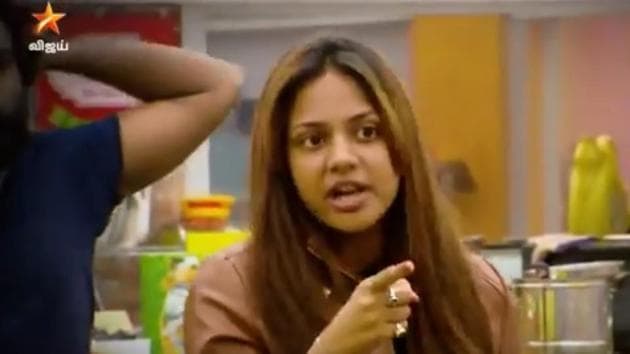 Bigg Boss 2 Tamil, episode 38: Aishwarya feels housemates are victimising her
Bigg Boss 2 Tamil, episode 38: Aishwarya and Riythvika get into a heated argument.
Hindustan Times | By HT Correspondent
, Chennai
UPDATED ON JUL 25, 2018 11:45 AM IST
The Bigg Boss 2 Tamil episode on Tuesday showed how much contestant Aishwarya felt targeted by other housemates. Bigg Boss asked housemates to make two groups with Janani and Mumtaz as the captains. The two groups had to win tasks to gain control of different regions in the Bigg Boss house. The first task is to eat halwa and fish together, which Senrayan won for Janani's team. Mumtaz cried out that this was cheating, however, the referee of the task, Sharik disagreed. Mumtaz's team lost control of the kitchen area because of this and got annoyed with the opposite team's members.
Aishwarya, who is in Janani's team, gave Vaishnavi the task to wash vessels to be able to enter the kitchen, according to the game's rules. However, at the last minute, Vaishnavi said that she doesn't want to eat and Mumtaz said that she would enter the kitchen instead. Aishwarya, who is not the captain of her team, felt that it was not her responsibility to decide which members will get what task.
However, Riythvika, Mumtaz and Vaishnavi's conversation about Aishwarya always misunderstanding the others in the house resulted in Aishwarya breaking down. She complained to Janani and asked Daniel why others always target her. Yaashika, Aishwarya's best friend, tried to explain to her that she shouldn't concentrate on what the other housemates had to say and that she should only focus on her target. The episode ended when Mahat advised Aishwarya to not pay heed to what other said and told her to concentrate only on the game.
He also comforted her, told her that she was excellent when it came to the tasks and so she should play the game with confidence.
Follow @htshowbiz for more

Close