Sunil Grover told me he will never return on Kapil Sharma's show: Raju Srivastava
Hindustan Times |
, New Delhi
Anjuri Nayar Singh
Apr 02, 2017 05:45 PM IST
Actor Raju Srivastava, who has become a regular on The Kapil Sharma Show, says that actor Sunil Grover won't return on it even if Kapil mends his ways.
Looks like one should give up all expectations of a patch-up between comedians Kapil Sharma and Sunil Grover. Comedian Raju Srivastava, who was trying to mediate between the two, says Sunil is determined he will not collaborate with Kapil again."I met Sunil recently. He was shooting for Indian Idol right next to where we were shooting for our show. He told me, 'Raju Bhai, you know me since so long. It's not like I'm arrogant ya mujhe koi popularity ka nasha hua hai. But mere saath bahut galat hua hai (I've been wronged). I'll not come back on the show. Agar Kapil sudhar jaye, phir bhi main vapis nai aaunga (Even if Kapil mends his ways, I won't return),'" shares Raju, who now features on Kapil's comedy show on television, The Kapil Sharma Show.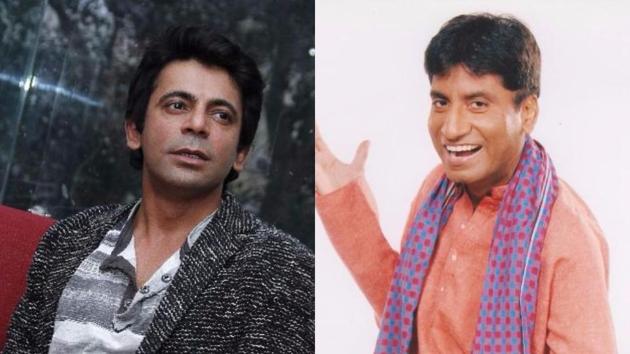 Kapil and Sunil had a spat on their return flight from Australia, mid-March. Kapil had allegedly slapped Sunil, who then ended ties with The Kapil Sharma Show.
Although Kapil and Sunil were shooting in nearby locations for their respective shows, they didn't meet. "I don't think they met each other. At least, this did not happen in front of me," adds Raju.
Meanwhile, there are also reports of Kapil cancelling the shoot of his show in 10 minutes on Friday night because he was not happy with the content and the comic timing. "We were shooting, but we felt that we could write the content better and that is why we decided to shoot the next day. This happens on all shows. In fact, the stand-up comedy portion of the show was shot on Friday itself," says Raju.
While there are rumours of the show shutting shop, Raju refutes these claims. "We were shooting all night and in fact, I came home at five in the morning. So obviously, the shooting is still on," he says.
Follow @htshowbiz for more