Union Budget 2017: The poor find little comfort in Jaitley's cash crunch balm
Updated on Feb 02, 2017 09:25 AM IST
Farmers, labourers say proposals not enough as FM toes prudence line.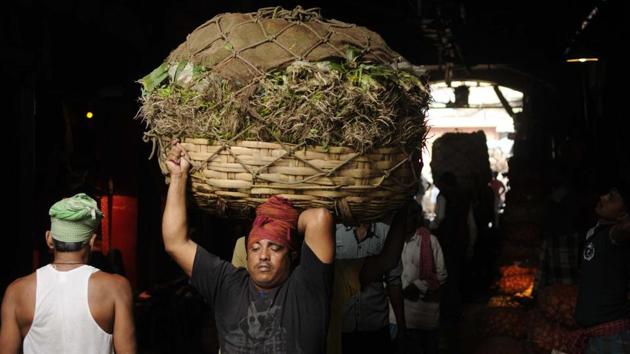 When finance minister Arun Jaitley unveiled his budget to help the poor with hikes in public spending and tax cuts, he hoped to win back the support of the people hit hard by a government ban on high-value banknotes.
But those steps have cut little ice with Sanjay Kumar, a 35-year-old out-of-job painter.
In November, he lost his job of 18 years because his employer ran out of orders after the cash recall.
"If things are better then why haven't I heard back from them? Why am I still out of a job?" asks the father-of-three who was told by his New Delhi employer that he would be called back once the crisis blew over.
Kumar and millions of others live in the cash economy, exposing them to the full impact of Prime Minister Narendra Modi's shock November 8 decision to recall 500-and 1000-rupee banknotes in his fight against black money.
In the beginning, Modi appeared to succeed in promoting the cash overhaul as a "pro-poor" policy, tapping into deep anger among the have-nots toward wealthy elites.
But three months on, that enthusiasm has waned.
For the government, Jaitley's budget was the first major opportunity to salve the fallout of the so-called demonetisation on the economy, which was already hurting from slowing demand and investments. Tens of thousands of people, mostly in the informal sector, lost their jobs.
Read | Budget 2017: FM Jaitley says jobs, skill training are among 10 key focus areas
In the cities, much of the cash crunch has eased. There are no long queues outside banks and ATMs. But things are far from normal, especially in the rural economy.
With plastic cards or digital wallet apps on smartphones still to gain widespread acceptance, the breakdown in the cash economy caused major disruptions to the supply of farm produce to cities. To add to farmers' woes, commodity prices remain depressed.
To try to ease those pains, Jaitley unveiled several measures for the poor as well as small traders, including offering tax cuts, increasing farm credit targets and spending more on rural projects.
Read | Budget 2017: Jaitley halves income tax for those earning Rs 2.5L-Rs 5L
But Nek Singh Khokh, a saplings and seeds producer in Nabha in Punjab, is not impressed.
"Why not a direct package for the farmers when big industrialists are given huge loan waivers, with a single stroke of a pen?" he asks, his forehead knitting into a frown.
"Farmers need direct monetary support to be pulled out of debt. I think the government is not going to the root of our problem."
A fine balancing act
To be fair, Jaitley had a tight rope to walk.
A splurge would risk a rating downgrade. And given that India is rated just one step above junk by S&P Global, Moody's and Fitch, any erosion in credit quality could risk scaring investors. Also, a worsening of public finances could spur inflation and hurt growth.
Still, his budget focused on housing for the poor, some relief to farmers, tax cuts for smaller businesses, more money for women, children and Dalits and it also pushed digital payments. To clean up the economy, he banned cash transaction above Rs 300,000.
"My approach in preparing the budget is to spend more on rural areas, infrastructure and poverty alleviation with fiscal prudence," he told parliament, adding that the impact of demonetisation would not spill over to the next financial year.
"We are moving from informal to formal economy and the government is now seen as a trusted custodian of public money."
Read | Budget 2017: What FM Arun Jaitley has to say about 'disruptive' demonetisation
And it's sound economic logic that many agree with.
"No dramatic announcements. But what I find good is that there are no populist announcements keeping in mind elections in five estates," said Krishnan Kutty, a retired government employee in Guruvayoor, Kerala.
Yet, across India's hinterland, the budget seems to have left many thirsting for more.
In Maharashtra's Jalka, Kalawati Bandurkar, the widow of a farmer who shot to fame after Congress vice-president Rahul Gandhi visited her, felt short-changed.
"I hoped the government would come out with a bailout package for the farmers, including loan waiver. But this was not done in the budget," she said.
"Besides, being a farm widow I was expecting financial security in the form of pension from the government for hundreds of agrarian crisis-ridden farmers like me."
She said her hardship increased after demonetisation and the budget offered her no relief.
"I spent over Rs 1 lakh in cotton cultivation but the income was less than half the amount and I am yet to receive the payment from the traders who themselves are facing the consequences of demonetization," Kalavati said.
(Inputs from Gaurav Saigal in Gorakhpur, Gurpreet Singh Nibber in Nabha, Ramesh Babu in Guruvayoor and Pradip Kumar Maitra in Jalka)
Personalise your news feed. Follow trending topics