A new world has emerged – Vladimir Putin's, Donald Trump's, Mr Modi's: France's Le Pen
Updated on Mar 25, 2017 03:15 PM IST
France's far-right presidential candidate Marine Le Pen met Russian president Vladimir Putin in Moscow a month ahead of the first round of French presidential elections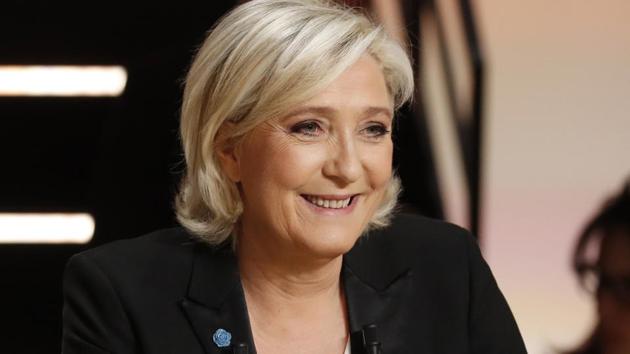 President Vladimir Putin met French far-right presidential candidate Marine Le Pen as she visited Moscow on Friday, with the Russian leader stressing that the Kremlin does not meddle in France's politics.
Le Pen's meeting with Putin -- their first, according to Moscow -- comes a month before the first round of the French presidential vote and as she tries to boost her international status by meeting with world leaders.
"We by no means want to influence the current events but we reserve the right to communicate with all representatives of all political forces of the country," Putin said, according to a Kremlin-issued transcript.
Russia has been accused of interfering in the US election in an effort to sway results in President Donald Trump's favour, prompting a probe by American authorities.
Last month an aide to staunchly pro-Europe French presidential candidate Emmanuel Macron accused Russia of trying to derail his campaign by spreading false rumours through state media.
Le Pen, leader of the National Front party, said she and Putin discussed ways to fight "fundamentalism". Speaking to reporters, she declined to say which issues Putin had raised during the encounter.
She said Putin represented a "new vision" of the world.
"A new world has emerged in the past years. This is Vladimir Putin's world, Donald Trump's world in the United States, Mr (Narendra) Modi's world in India," she told reporters.
"I am probably the one who shares with all these great nations a vision, once again, of cooperation and not one of subservience, not the hawkish vision that has too often been expressed by the European Union."
'Lifting sanctions'
Anti-EU Le Pen is among European politicians who have called for closer ties with Putin and approved of Moscow's annexation of Crimea from Ukraine in 2014, which saw the United States and European Union impose sanctions against Russia.
Le Pen said Friday that if she were elected, she would "ponder lifting sanctions" against Russia.
"I have always been opposed to these sanctions that I thought were profoundly unfair and utterly counterproductive," she said.
Le Pen has visited Moscow on several occasions, enjoying positive Russian state media coverage.
Russia has offered praise for rightwing and eurosceptic politicians in Europe -- with Putin cementing closer ties with Hungary's Prime Minister Viktor Orban, for example, in Budapest last month.
But calls for a detente with Russia have drawn criticism in France, and Le Pen's conservative rival in the presidential race, Francois Fillon, has also been hit by charges of being too close to Putin.
Media reports claim that Fillon introduced a Lebanese oil pipeline builder -- with whom he signed a $50,000 lobbying contract -- to Putin at a business forum in 2015.
Benoit Hamon, the Socialist candidate, lashed out at what he called Le Pen's "subservience" to Putin, saying "Russia's interests are not France's interests".
Russian loan
It is rare for Putin to meet a foreign presidential candidate so close to an election.
But Kremlin spokesman Dmitry Peskov said that Putin's meeting with Le Pen and his encounters with other representatives of foreign opposition forces were "normal practice".
"Russia is ready to stay in contact with representatives of all political forces, with the current leadership, with representatives of the opposition," Peskov said.
The meeting -- which lasted an hour and a half, according to a Le Pen advisor -- was not announced this week when the Russian parliament confirmed that she would be meeting with lawmakers Friday.
Le Pen met Russian parliamentary speaker Vyacheslav Volodin, calling for increasing cooperation with Russia in the fight against "terrorism".
She also posed for a selfie with federal lawmaker Vitaly Milonov, known for having drafted Russia's 2013 law banning "gay propaganda", which he posted to his Facebook page.
In 2014, the National Front received a nine-million-euro ($9.7 million) loan from a Russian commercial bank that later collapsed.
The party on Friday dismissed the possibility of seeking further funding from a Russian bank.
Le Pen said in Moscow that financial aid to her party had "in no way" been discussed during her meeting with Putin.
Le Pen has sought to capitalise on the anti-globalisation anger reflected by Brexit and the election of Trump -- both results that were welcomed by the Kremlin.
Russian Foreign Minister Sergei Lavrov on Thursday said Le Pen was not a "populist" but a "realist or anti-globalist" figure.
Personalise your news feed. Follow trending topics