Appointment of Saarc secretary general hit by India-Pakistan tensions
Updated on Jan 27, 2017 09:07 PM IST
India-Pakistan tensions have held up the appointment of the next Saarc secretary general, with the grouping yet to approve the candidate proposed by Islamabad.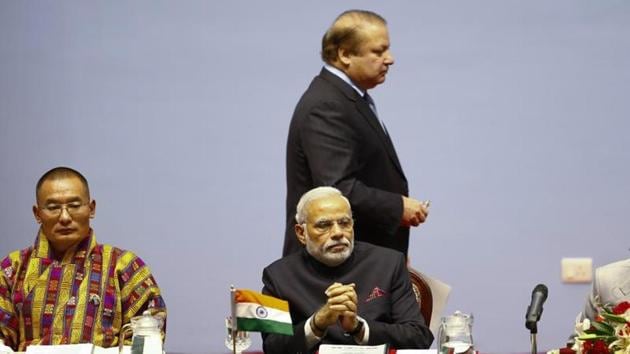 Hindustan Times, Kathmandu |
Anil Giri
The appointment of the new Saarc secretary general has run into problems because of India-Pakistan tensions, with Islamabad's candidate yet to be approved by the grouping.
Pakistan had proposed Amjad Hussain Sial for the post of secretary general during a meeting of the Council of Ministers at Pokhara in March last year. It was Pakistan's turn to get the post, which is held by rotation.
After Sial's name was proposed, it was expected he would be approved by member states at the Saarc Summit that was to be held in Islamabad last year. However, the summit fell through because of the India-Pakistan tensions.
The incumbent secretary general, Nepal's Arjun Bahadur Thapa, will complete his tenure at the end of February. The Saarc Secretariat recently circulated a note to the grouping's eight members, seeking their approval for Sial's appointment.
In its response, the external affairs ministry asked the Saarc Secretariat to follow the process laid down in the charter for appointing the secretary general. India made it clear the appointment should be endorsed by the Council of Ministers and that it cannot be done through a diplomatic note, sources said.
According to the Saarc process, a rejection by even one member state means an appointment cannot go ahead.
The Indian response, accessed by Hindustan Times, drew attention "towards Article V of the MoU on the establishment of Saarc Secretariat that specifies the requirement of appointment by the Council of Ministers for the secretary general".
With very little chance of a meeting of the Council of Ministers being convened in the near future, the appointment of Sial is likely to be on hold for an indefinite period. An extension for Thapa is unlikely as the secretary general has a fixed term of three years.
The Indian response also conveyed New Delhi's "concern that formal communications on this important matter are not being circulated to all member states by the secretariat" and requested that working procedures should be adhered to.
This is an example of "hard politics", said a Nepali diplomat familiar with the developments.
Pakistan has expressed dismay over the developments, diplomatic sources in Kathmandu said. Reports suggested Pakistani authorities had expressed their reservations to Nepal's envoy, Sewa Adhikari.
The Saarc process has been in limbo since India-Pakistan tensions spiked after a terror attack on an Indian Army camp at Uri last September.
"This is the first time in Saarc's history that the appointment of the secretary general has run into such problems. We are clear that the tensions between India and Pakistan have affected the Saarc process and the appointment of the secretary general," the diplomat said.