As parties battle over shutdown, Trump collects blame on Twitter
Updated on Jan 21, 2018 09:38 AM IST
U.S. government barreled toward a shutdown, Republicans and Democrats sought to apportion blame for the deadlock with a battle of social media hashtags, #TrumpShutdown was fast becoming the top trending item on Twitter worldwide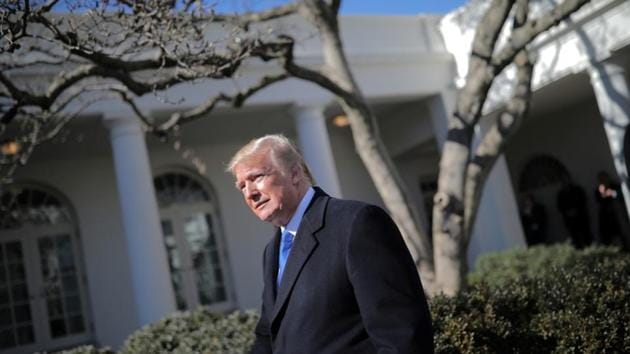 As midnight neared on Friday and the U.S. government barreled toward a shutdown, Republicans and Democrats sought to apportion blame for the deadlock with a battle of social media hashtags.
By the time the deadline had passed without a deal and exhausted senators returned home to bed, #TrumpShutdown was fast becoming the top trending item on Twitter worldwide.
In an early indication of who was being held responsible for the impasse in Washington, at least among users of the social networking site early on Saturday, that hashtag beat competitors including #DemocratShutdown and #GOPShutdown.
"This will be called the #TrumpShutdown," Senate Democratic leader Chuck Schumer tweeted after government funding expired. "There is no one who deserves the blame for the position we find ourselves in more than President (Donald) Trump."
Many who shared the hashtag decried a lack of leadership from the Republican president, in sharp contrast to his self-crafted image as a dealmaker who would make Washington work.
As both parties exchanged online blows, some of Trump's supporters, including White House Press Secretary Sarah Sanders, sought to push the hashtag #SchumerShutdown.
A year into Trump's presidency, Sanders wrote on Twitter, Democrats could not shut down the country's booming economy, so they shut down the government instead.
"This is the behavior of obstructionist losers, not legislators," Sanders tweeted. "Do your job Democrats: Fund our military and reopen our government #SchumerShutdown."
By Saturday afternoon the hashtag #TrumpShutdown had been used some 2.6 million times on Twitter, Facebook and Instagram, according to social media analytics platform Talkwalker. That was roughly double the 1.3 million mentions of #SchumerShutdown during the same period.
The hashtag #GOPShutdown appeared about 236,000 times, Talkwalker said, compared with approximately 107,000 uses of #DemShutdown or some variation of that.
Republicans control both the House of Representatives and Senate. With negotiations due to resume among lawmakers, Trump himself took to Twitter on Saturday to tell his nearly 47 million followers that the Democrats were holding the military hostage because of what he said was their desire for "unchecked illegal immigration."
"Can't let that happen!" Trump tweeted.
By early afternoon on Saturday, the top-trending hashtag in the United States was #WomensMarch2018, for the weekend rallies reprising mass protests that marked the beginning of Trump's presidency. It was followed by a more bipartisan #governmentshutdown2018.
Some saw the online hashtag duels as a distraction from an avoidable crisis roiling the world's most powerful government.
"I hope this debacle ends soon, and with it the annoying shutdown hashtag battle to assess blame," tweeted David Axelrod, who was senior adviser to former President Barack Obama.
Personalise your news feed. Follow trending topics