As Doklam standoff ends, China says it will strengthen patrols along the border
Hindustan Times, Beijing |
Sutirtho Patranobis
Aug 31, 2017 10:34 PM IST
China's defence ministry has said it will beef up patrols in the Doklam region but also adjust troop deployments after the end of a standoff with India in the area.
China will strengthen patrolling and defences in the Doklam area, the People's Liberation Army announced on Thursday, days after the end of a two-month standoff with India in the region near the Sikkim border.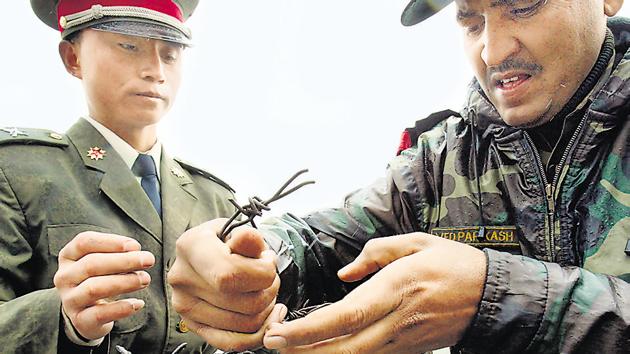 Border troops from the two countries were involved in a face-off in the region, which is under China's control but claimed by Bhutan, from mid-June after Indian soldiers stopped Chinese personnel from building a road over strategic security concerns.
"China's armed forces will strengthen patrolling and defence of the Donglang area to resolutely safeguard the country's sovereign security," defence ministry spokesperson Ren Guoqing told a monthly news briefing, using the Chinese name for Doklam.
The military has paid "close attention to the situation" and taken "emergency measures to reinforce border controls" since the standoff, Ren was quoted as saying by official Xinhua news agency.
"The Chinese military will continue to carry out its mission and responsibilities, strengthen its patrols and garrisons in the Donglang area and resolutely safeguard national sovereignty and security," he added.
The standoff was resolved on Monday as Indian troops withdrew from the area and China, without clearly saying so, gave enough indications that it had halted work on a road construction project that triggered the row.
India sent troops into the area in June to stop work on the road in the remote, uninhabited territory. New Delhi said at the time the road would alter the status quo and pose a serious security threat.
Ren also said Chinese troops would "resolutely maintain the country's territorial sovereignty and legitimate rights", adding that the Chinese said had used military diplomacy and border contact channels to promote the resolution of the issue.
Neither side has so far offered details of the terms of disengagement from the area. On Wednesday, China's foreign minister Wang Yi told a news briefing that India should learn its lesson from the standoff and prevent similar incidents in future.
On Thursday, foreign ministry spokesperson Hua Chunying said: "The Doklam issue…has been resolved. This serves the common interest of the two sides and is good for both sides and it is a basic fact."
The standoff ended just ahead of a weekend summit in China of BRICS, which groups Brazil, Russia, India, China and South Africa. Indian Prime Minister Narendra Modi will attend the meet in Xiamen.